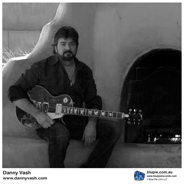 Danny Vash's 'Hard Life' is a testament to time
'Hard Life' by Danny Vash is an inspiring song that reflects the hardship of life and motivates you to 'stand your ground' and fight for what's right. The electro beat accompanied with the heavy, repetitive guitar bass fires you up to conquer, while the lyrics are uplifting and relatable.
Danny Vash originated from San Francisco, performing with numerous rock and metal bands in the South-West before branching out. In 2015 he became renowned for producing thought-provoking songs that showcase his extensive guitar work, experienced vocals and enticing hooks. Hard Life is a testimonial to this.
The song was nominated for a series of awards in 2017 including:
The track consists of Mr Kenny Aronoff on drums, Danny Vash on guitars, Danny Saber (Rolling Stones, David Bowie, U2, Jack White) on bass and the console, with Damien Reilly producing the smooth guitar solo. In addition, our session engineer Matt Cohen in Studio City Sound, LA assisted throughout the production of the track ensuring the final piece met expectations.
Hard Life is a universally relatable song withholding a powerful message that transcends time and encompasses the sheer talent of Danny Vash.
Check it out below:

Artist Links: