Blue Pie Records is one of Australia's leading independent labels. The record label is called "Blue Pie Records USA" and the music production house is called "Blue Pie Productions USA".
We have our head office in Australia, and points of presence in the USA, UK, Ireland, China, and Canada. The company is made up of the following components:

The Record label is called "Blue Pie Records" see:

The music store is called "Blue Pie Music" see:

The Publishing business is called "Blue Pie Publishing"
Blue Pie Records has a wide range of alliance-partnerships which it calls upon to create distribution, marketing and promotional systems for our artists, labels and content partners. We provide back office systems, software, services and resources to over 600 small to medium sized record labels around the world.
Blue Pie's priority artists include:The Eastside Boyz, Amanyea, Suzanna Lubrano, Dale Bozzio, Danny Vash, DL Down3r, Trees Die Standing, Black Dawn, The Cars ( Live Concerts), Sydonia, Jack Derwin, Burning The Day, Marvel, The Yeehaa Boys, Tony Hatch, Jessy Tomsko, Serge Ermoll, Bon Scott, HeadBand, LadyDice, Tiny Tim and Stinga T to name a few.
Blue Pie's roster of artists continues to gain worldwide recognition. You can review the artist roster in this site under the artist section. For details on our labels please visit the label section of this website.
About our catalogue:
We represent over 600 labels world-wide that use our distribution and royalty reporting systems, and rights management services. We manage part or all of the day to day distribution, marketing and promotional services for these leading independents and their catalogues globally. We distribute over 15,000 artists, managing their marketing, promotional needs, brand development and license services.
Our catalogue has grown to over 400,000 tracks that we manage and administer all master and publishing rights. Through our label partner networks we are able to access another 2,000,000 tracks through license and partner agreements.
This means our license teams can always find that song that you need for your film, TV, or advertising campaign. We are committed to the continued commercialisation of our catalogue and achieving chart success for our artists.
Distribution:
Our digital distribution services continue to expand. We hold numerous exclusive digital content supply agreements as well as agreements with all the leading aggregators including: Symphonic, The Orchard, Danmark Music Group, INgrooves, iMusician and Believe Digital. We have major label distribution agreements in place with Universal, Warner Music, and SONY RED. Details are available in the distribution section of our website.
We endeavor to have direct agreements in place where practical with leading specialist digital music stores, aggregators and leading Telco's on the planet. This provides our artist, labels and content partners with preferential supply to the main retail stores and means greater opportunity for success in terms of profile, fan base build and sales of their music.
We have offices in the following countries:

AFRICA

CANADA

CHINA

NETHERLAND

UK

USA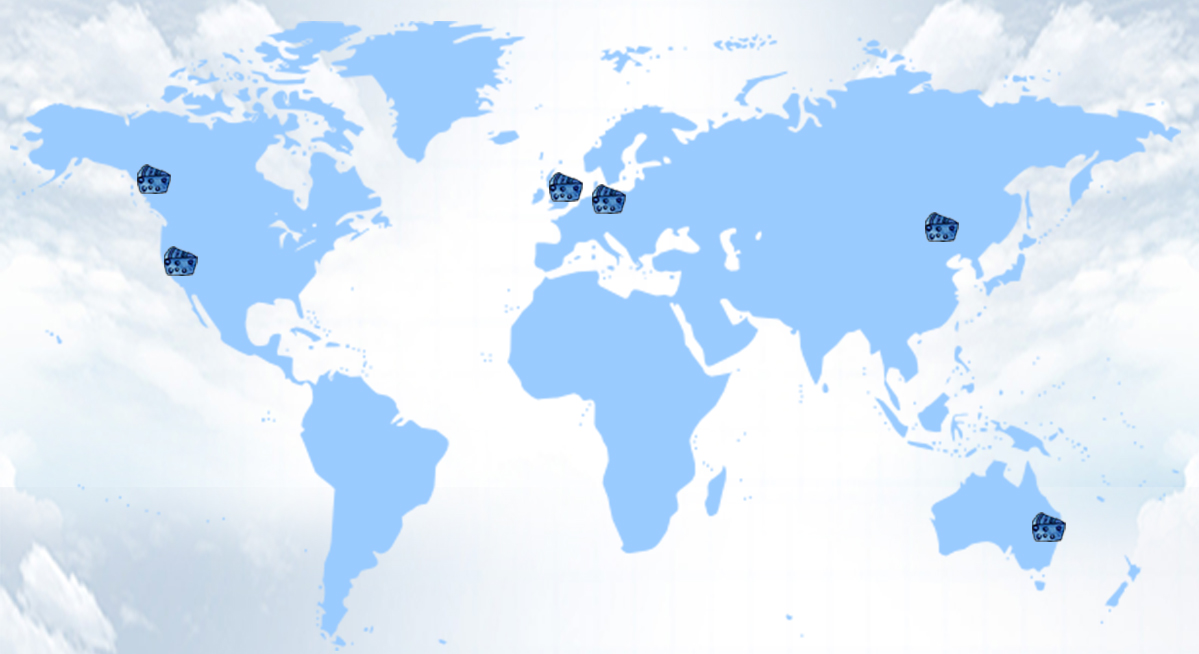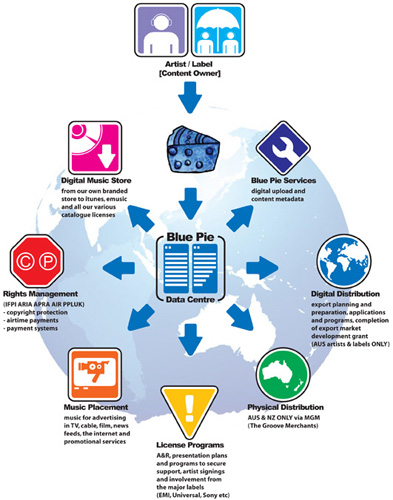 Blue Pie is continually developing new markets for our artists, labels, content partners to connect and reach new consumers for their music and content and at the same time develop new fan bases for our artists.
The future is very bright for us with our continued expansion into the USA, Canada, UK, Europe and Asia. It has been a huge team effort by all at Blue Pie. Our US Team continues to break new ground, with new opportunities presented to our artists and labels every day and record placements for TV shows and films being secured throughout 2020.
Our Music License Team continues to grow year on year and break new ground and develop new market connections that allows our catalogue to be licensed for FILM, TV, CABLE and Advertising placements. Music Licensing is our biggest growth area for Blue Pie, our artists and labels and it will continue to expand well into the next decade.
2019 to 2020 looks to be an extremely exciting time for Blue Pie Records.
If you would like to know where we have been then feel free to download our history brochure.
If you would like to join Blue Pie then please see the contact page for details on how to submit your artists, labels and content for our sales teams to review or email: sales@bluepie.com.au
Damien Reilly
CEO and founder
Blue Pie Records & Blue Pie Productions
LinkedIn Profile