Tiny Tim's live show at Luna Park is an outstanding performance from the weirdly wonderful music legend Tiny Tim, filmed by pop-artist Martin Sharp. The film titled 'Tiny Tim's Non-Stop Luna Park Marathon' is now available to rent or purchase from Planet Blue Pictures! The legendary Tiny Tim sang for two hours and seventeen minutes nonstop on a beautiful summer's night, in the Floating Palais at Luna Park on Sydney harbor 12th January 1979. This spectacular was produced by legendary Australian artist Martin Sharp.
Tiny Tim is a mastermind of show business and a master of popular songs. He was an iconic American singer highly acclaimed for his bizarre renditions of contemporary songs in the 1960s, and known for his long hair and white make-up. He was generally considered a one-hit wonder for his song Tiptoe through the Tulips. Tiny believed that the world wasn't ready to see him as any more than a freak. This is where Martin Sharp played an important role for shaping Tiny Tim into the iconic legend he is today, and shaping the iconic Luna Park performance. Tim says, "I know Mr. Sharp believes in me so much – and I praise the Lord for that – and maybe he's made a cult movie which at the very least will survive as a museum piece. But Mr. Sharp, I think, is interested more than ever in my thoughts on this world and its cataclysmic times, on my fundamentalist spiritual attitudes."
Martin Sharp was an Australian artist, underground cartoonist, songwriter and filmmaker. He was Australia's foremost pop-artist, with psychedelic posters of famous musicians such as Bob Dylan and Donovan being classic of his style. Sharp has also worked with Tiny Tim, following his musical career with a singular and unique obsession. After Tim's initial 'fame flame' had burnt out, Sharp was the man to reignite the fire. Sharp believed in Tiny Tim more than anyone else, focusing on Tim's views of the world, and what made him tick as an individual, understanding him as a human being instead of just a celebrity under his wing.
Sharp spent many long hours interviewing Tiny Tim, recording him, and basically piecing his life together, all in order, to produce his grandest ambition: a two-hour film about Tiny Tim. Sharp says: "I went to see Tiny at the Albert Hall and was quite amazed by him. And the amazement hasn't ceased". His show at Luna Park broke records for being the longest performance without a break.
Sharp says about the film that "it was an amazing moment of where his art and his religion came together at that moment. I'm interested in those moments." Sharp says that Tiny Tim taught him a lot about religion: "I wondered why he had such a great attitude, even though when he sort of was dropped from the peaks of show business, because he was really right up the top there, and he sort of just seemed to vanish, which is when I started working with him. And I wondered where his good cheer came from, and he was quoting scriptures often. And I found it interesting. Not many people in my life were quoting scriptures at all, actually no-one at all, I think."
Planet Blue Pictures is proud to announce that this film showcases exclusive footage of that extraordinary performance. 'Tiny Tim's Non Stop Luna Park Marathon' is available to buy or rent now! With rare footage of the iconic, record-breaking performance, head over to the Planet Blue Pictures website to snap up your copy now before it's too late! Head to planetbluepictures.pivotshare.com for your copy now!
But music is the core appeal of Tiny Tim at the end of the day, so it's important to acknowledge his albums in the spotlight too! A performer's mask is a powerful tool. It can foster confidence and master the art of illusion. But one thing that wasn't a mere act was Tiny Tim's extensive range of talents, and the depths of his passion. In any song produced by him, this is obvious to see. In particular, the Chameleon album is a favourite of ours!
We think his cover of "Stayin Alive" is a standout song among the others in the album. The Chameleon album is definitely one of Tiny Tim's best. It was so good that it even attracted the attention of legendary Australian artist, Martin Sharp! He and Blue Pie artist Pearly Ong spent countless hours working on artwork for the special edition of the album.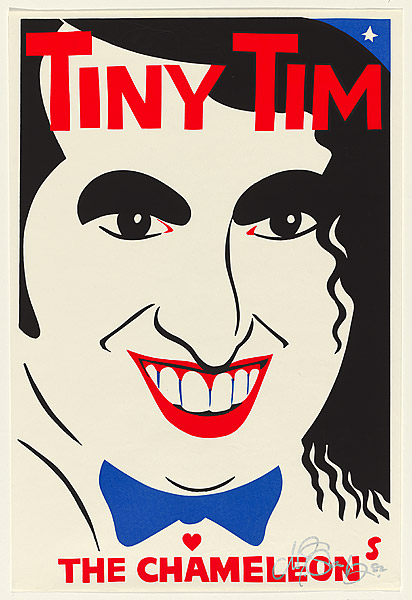 More information about this piece in particular can be found by clicking here. Martin Sharp and Pearly Ong also poured their passions and efforts into the exclusive Digital Booklet for Chameleon! They worked on it for a straight month, so you know it'll be quality! When you buy the special edition of Chameleon on iTunes for just $10.99 AUD, you will also receive a digital booklet full of artwork dedicated to the album by Martin Sharp and Pearly Ong! You can also choose to buy the album without the e-book for a few dollars less. Click here for the special edition featuring the e-book on iTunes! www.music.apple.com/us/album/chameleon-special-edition/555259733
Speaking of Australian artists, the appreciation of Tiny Tim in Australia is well founded. How could it not be? Check out this address right here: www.tinytimlunapark.com
You see that video down there in that website? This one here:

Tiny Tim – "The Luna Park Marathon 1979" (Trailer) from Planet Blue Pictures USA on Vimeo.
That right there is the trailer for the concert he gave at Luna Park!
Yes, Tiny Tim is a beloved performer in the hearts of many, and this celebration of his talents and the impact he had on the world and media is hopefully up to the standards he set. We at Blue Pie and Planet Blue Pictures extend our heartfelt appreciation for every stride Tiny Tim made towards a grander musical world, and we hope that we have done our part to keep his legacy alive. We love Tiny Tim, and if you didn't already, we hope you do too, now.
Tiny Tim is a Street of Dreams and Blue Pie Records USA artist. Tiny Tim is published by Street of Dreams and Blue Pie Publishing USA (ASCAP) for selected titles.
If you just can't get enough Tiny Tim and need to get your hands on everything you can, here's the official links! Tiptoe your way over to these and explore the grand impact he left on our world of entertainment!
TINY TIM CHAMELEON FEATURING SPECIAL E-BOOK: www.music.apple.com/us/album/chameleon-special-edition/555259733
WEBSITE FOR LUNA PARK PERFORMANCE: www.tinytimlunapark.com
FULL LUNA PARK CONCERT: www.vimeo.com/206772547
MARTIN SHARP'S WORK: www.artsearch.nga.gov.au/detail.cfm?irn=89823
TINY TIM'S BLUE PIE BIO: www.bluepierecords.com/artist/tiny-tim
TINY TIM WIKIPEDIA: www.wikipedia.org/wiki/Tiny_Tim_(musician)
TINY TIM'S SPOTIFY: www.spoti.fi/2NerfJc
CHAMELEON PLAYLIST ON YOUTUBE: www.youtube.com/playlist?list=PLGekzZV4Wc5aQsJCTx7YwTOMe7x494dfH
TINY TIM'S TWITTER MEMORIAL: www.bit.ly/31XwRdQ