Henry Turner Jr oozes talent not only is he a musician but also a composer, producer and promoter. Henry has been accredited to creating a unique and contemporary music style labelled as a mixture of Louisiana Reggae, Soul, Funk and Blues.
Henry possesses a rich baritone voice which produces a soulful and emotive tone to his ballads and catchy dance songs. Henry's ability to incorporate a mixture of blues, soul and funk in his guitar compositions has resulted in a series of unique, upbeat and unforgettable songs.
Henry has produced sixteen singles and eight CD's releasing them through his own record company 'Hit City' records. This has led to his music being featured in several independent feature films, commercials, compilation projects and highly rated television shows.
Henry has taken this immense success and returned it to the Louisiana community assisting artists through his record company. In 2011 he established the 'Ultimate Louisiana Party' which is an annual tour that stops in a series of states including California, Arizona, Washington and Florida. This tour is designed to showcase the local Louisiana talent enabling artists to gain exposure nationally. The festival extends over March and is family friendly, showcasing not only twenty bands of diverse genres but art, a vendor village and food. Headliners include Louisiana Blues, Soul, Reggae and Henry's band itself 'Henry Turner Jr, & Flavor.'
Tickets can be purchased at the following website – ultimatelouisianapar.wixsite.com/ultimatelaparty/festival-dates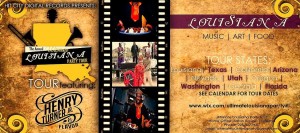 Henry also established the 'Henry Turner Jr's. Listening Room' in Baton Rouge. The venue is designed to help local and regional musicians while also providing an intimate establishment for national touring acts to perform. Currently, Henry and his band will be performing every Thursday night from 8:00 pm with the assistance of special guests. In addition, a series of upcoming touring bands will also be featured including 'The Patrons' who have played across Louisiana sharing their soulful blues inspired beats, and 'Alberta' a goth/blues/Americana duo which is currently touring the United States.
To check out this funky establishment and buy tickets to the best gigs in Louisiana follow the link – ultimatelouisianapar.wixsite.com/henryslisteningroom/booking
Artist Links: