The true Australian 80s kids, whether they're still down under or abroad, will all know the name "Swanee". John Archibold Dixon Swan was the only child to keep the surname of his biological father when his mother remarried in the mid-1960s. His younger brothers Jimmy and Alan Barnes took the surname of their mother. Swanee's dad was an adept boxer, and Swanee is living up to his name by coming out swinging with a very exciting announcement for all of you up Coffs Harbour way!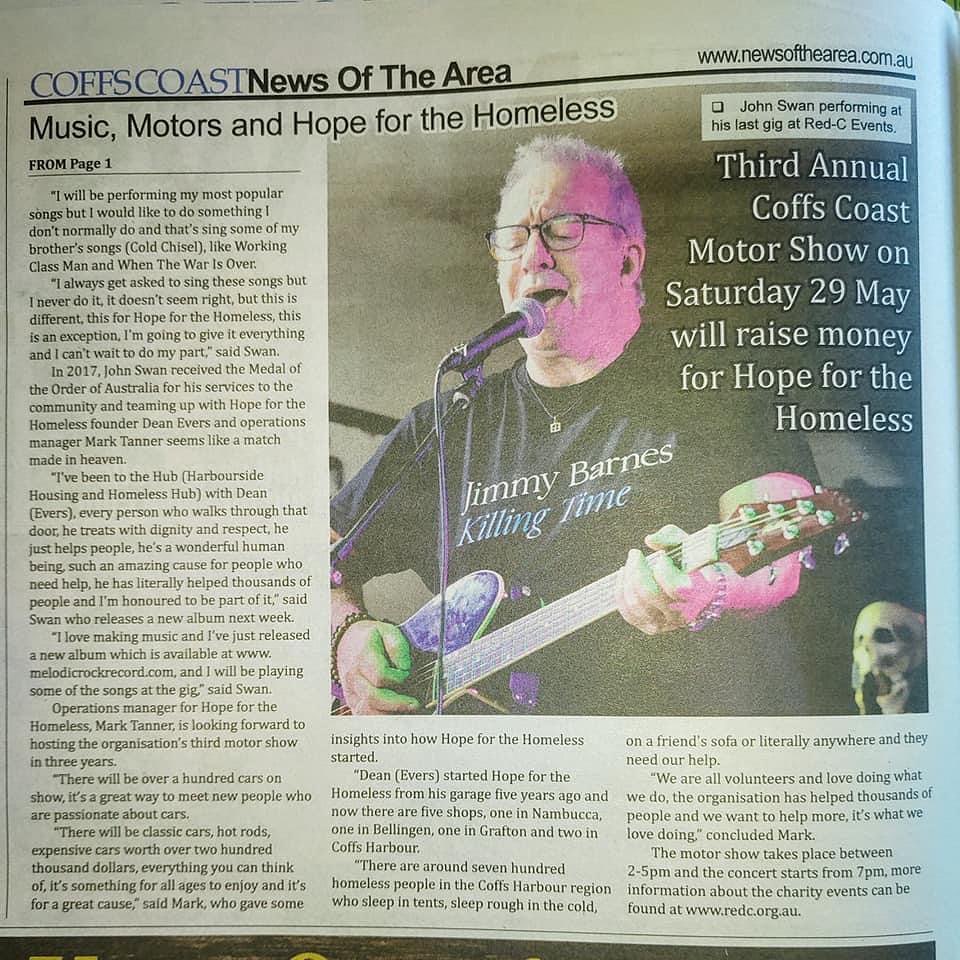 As you can see, The Hope For The Homeless organisation is a NFP charity based in Coffs Harbour, and they'll be raising money at the third annual Coffs Coast Motor Show, which is just a few days away! If you want to read about Hope For The Homeless, click here to see the group behind this donation effort! Excitingly enough, according to the article, Swanee's gonna be singing some of the iconic work from his brothers – Cold Chisel is back, Swanee style! Check out the official Facebook post about the event and get all stirred up! Gonna be fun!
In early 1974 Swanee joined The James Wright Band as a drummer, and by the end of the year he joined the Adelaide band Fraternity as lead vocalist. His brother Jimmy Barnes joined the band and Swanee switched roles to drums, but eventually resumed his duties as lead vocalist after Jimmy Barnes left Fraternity to join Cold Chisel. During this time, Swanee played drums for Jim Keays' Southern Cross. In 1976 Swanee moved on and left both bands to further his solo aspirations.
To hear that Swanee will be singing some tracks from Cold Chisel is enough to make any old school Ausrock fan jolt up in their seat… well, you know where to go! Saturday, May 29th, starting from 2, the games will begin! Be sure to check out www.redc.org.au for more info on the charity events! And until then, we'll be awaiting hits from Swanee, Cold Chisel, and Fraternity alike! We'll see just what sort of stuff he'll be playing on the day, but the promise of Cold Chisel Swanee style… that alone is exciting enough!
Swanee is a Blue Pie Records USA artist and available at all leading digital retailers on the planet. Search "Swanee" or "John Swan" for more information.
=============================
Swanee | Awards | December 2019
South Australian Amateur Boxing Champion 1970
South Australian Music Hall Of Fame Inductee 2014
South Australia's Senior Australian Of The Year Award 2015
Order Of Australia Medal (OAM) 2017
=============================
Swanee | Band Links | December 2019