Last week, DJ Central and Blue Pie's own MCs Pyrite and Mighty took to 107.1's excellent Thursday evening show, 100% Home-Grown! This marks their second appearance on community radio Highland FM, and Lea was very helpful in allowing them to feature from 6PM til 7PM! This quality show endeavours  to showcase underground Aussie musicians! So BP and DJC brought their best and blasted the airwaves with all the Aussie indie and beyond that we could find in our catalogues!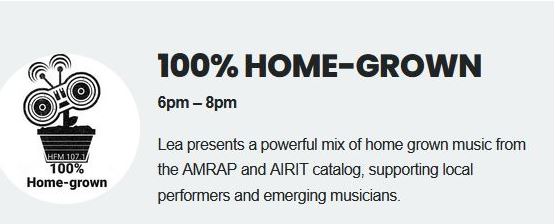 Pyrite and Mighty are both fresh to the radio industry and were very glad to be present. We at Blue Pie and DJ Central are very grateful for this opportunity! The duo did their best to help Lea comment on the fantastic unearthing of talent that she does every week, all for the love of music. Lea's choices were stellar as usual, but what was really special to us was the opportunity to play some of OUR music! We went for a true Aussie lineup, and we're loving the reception these tracks had!
Here's a refresher of some of the tracks that made it to air this particular week, in case you missed it!
This all-star roster of hits was well-received and it was a pleasure to bring it to listeners all across the highlands! While the likes of Dave Evans don't really fit the "indie" vibe, they're still Aussie Home Grown, and who could pass up the chance to listen to some akka dakka anyway?! And Key Loch's Where Is The Love was so nice we had to play it twice. With samples from other albums and excellent tunes, the combination of Lea's catalogue and ours made for a stellar experience! We're very thankful we've been given this awesome opportunity to get these artists out there across the Southern Highlands.
This isn't just a one-time thing, either! There'll definitely be more to come on our OWN shows eventually. First a cameo on the amazing 100% Home Grown show, next, two shows where it's all Blue Pie and DJ Central, all the time! The schedule is yet to be decided, but "Blue Pie in the Sky" and "The Essential DJ Central" sound like some fun names, don't you think? Mighty and Pyrite are definitely excited to shoot the breeze and banter as they encounter every kind of music we have ready to roll! And we may even reappear on 100% Home Grown once more! Third time's the charm right? THESE TWO AREN'T DONE WITH RADIO YET BY A LONG SHOT!
If you want to see what else is on store at this excellent station, we have you covered – the schedule is easy to navigate! And if you need something else to scratch your itch after you're done with 100% home grown, then watch this space for Friday nights around March 2021… 😉
And of course, the website is here to fill you in on every detail you could ever want!
Remember, Southern Highlands – the radio hosts at 107.1 are all VOLUNTEERS, WORKING FOR THE LOVE OF MUSIC! Bump this station loud and support the magnificent work they do out of the passion in their hearts! That's why the radio waves in the Highland FM logo form a heart… because that's what everyone involved with these projects puts into them every single day!