The iconic Dave Evans, original lead singer of 'AC/DC,' has returned in collaboration with 'Let There Be Rock Promotions' to deliver an epic rock 'n' roll music festival in Fremantle, WA, Australia. 'Bonfreo' is an annual festival that extends over the month of February bringing together musicians and fans to celebrate the life of the late Bon Scott.
Dave Evans is one of the headliners and no doubt his talent will produce head banging tunes leaving you speechless, literally. Dave Evans' career spans over decades and includes being the frontman to 'AC/DC', 'The Rabbit' and 'Thunderstruck', AC/DC's tribute band. Evans has also had a successful solo career producing six CDs.
If you're a fan of 'AC/DC' this is a concert that cannot be missed. Evans ensures his performances reflect the expectations of his fans "When I perform around the world the fans love my music and my performances and I hear what they tell me".
Head-bang the night away, with the one, the only, legendary Dave Evans.
Tickets can be purchased from Bonfreo's website – bonfestfreo.com/about-bonfest-freo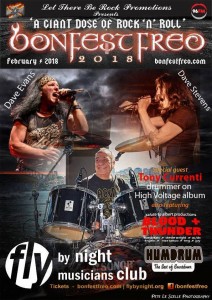 To keep up to date with Dave Evans' rock 'n' roll adventures follow the links below:
Facebook – facebook.com/daveevansrocksuk
Spotify – open.spotify.com/artist/1t8f98TYfY1HxAtdfVGB3b
Deezer – deezer.com/us/artist/75563?autoplay=true
YouTube – youtube.com/channel/UCqEaIueb9ptxX9rE8ZEQHPg