The serene Australian Southern Highlands are about to receive a treat on the airwaves! Soon enough, Blue Pie and DJ Central are going to be on community radio! Those in the local area oughta turn their dials to 107.1 on Thursday the 25th of January 2021, from 6PM til 8PM! What's on air? None other than "100% Home Grown", a show that's designed to showcase underground Aussie musicians! Some good old indie favourites for your pleasure.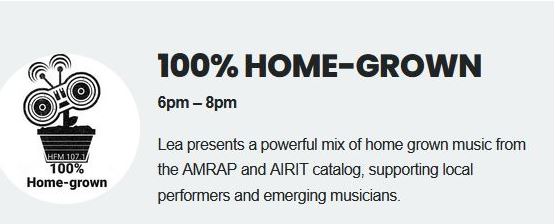 Joining Lea this coming week will be two fresh faces, or at least voices, as far as radio is concerned! Welcoming the Masters of Ceremony: Mighty and Pyrite! They'll be helping Lea comment on the fantastic unearthing of talent that she does every week, out of the love of music. They'll also be bringing some of the excellent Australian music from the Blue Pie and DJ Central catalogues! Who knows who'll show up? Well, we have a few ideas of some potential acts you could expect…!
And, of course… one can't forget one other legendary name hereto unmentioned… 😉
This isn't just a one-time thing, either! There'll definitely be more to come on our own shows eventually. First a cameo on the amazing 100% Home Grown show, next, two shows where it's all Blue Pie and DJ Central, all the time! The schedule is yet to be decided, but "Blue Pie in the Sky" and "The Essential DJ Central" sound like some fun names, don't you think? Mighty and Pyrite are definitely excited to shoot the breeze and banter as they encounter every kind of music we have ready to roll! But more on them later… for now, tune in for their radio debut this Thursday if you're local, and get ready to discover some of your new favourite artists… every single one of them, 100% HOME GROWN!
If you want to see what else is on store at this excellent station, we have you covered – the schedule is easy to navigate! Watch this space for Friday nights around March 2021… 😉
And of course, the website is here to fill you in on every detail you could ever want!
Remember, Southern Highlands – the radio hosts at 107.1 are all VOLUNTEERS, WORKING FOR THE LOVE OF MUSIC! Bump this station loud and support the magnificent work they do out of the passion in their hearts! That's why the radio waves in the Highland FM logo form a heart… because that's what everyone involved with these projects puts into them every single day!