Not even ONE FULL DAY after Key Loch made it all the way to the top of the charts on PlayMPE, and they're already receiving yet more recognition!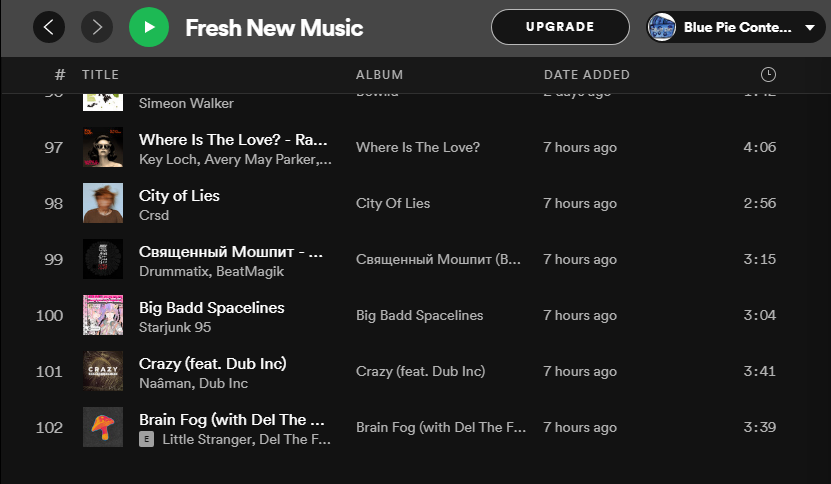 The "Fresh New Music" playlist is managed by Symphonic distribution, and it is updated every Friday. As the playlist managers say: 'Every Friday, we'll be updating our "Fresh New Music" playlist, featuring the newest tracks from Symphonic's indie community. Ft Artist: Brother Bird. Submit your songs here.'
And indeed, that's exactly what we did! We've been submitting new releases from across our label's catalogue for a while, and now the ever-popular "Where Is The Love" has made it into the Fresh New Music playlist for this week at number 97 of 102. We've taken the above screenshot to immortalise the occasion, so that even when the listing changes in a week's time, we'll still have this to remember it by! If you're lucky enough to be reading this today in mid October 2021, give the whole list a listen if you want. The tracks WITL features alongside are memorable and catchy as you would expect! Good going Key Loch – you're truly turning heads everywhere with your creations!
Key Loch are Damien Reilly and Justin Gross. They are the founders of the 90's power Aussie Rock Band Southpaw www.southpawmuzik.com. They bring together a production history between them of 50 years of song writing and playing live music in Australia. Key Loch's expert playing guarantees that every time you listen to the sexy "Where Is The Love", it'll hit you right where it counts. The future is bright and Key Loch are wearing shades as they unlock the musical doors of your mind and fill it full of great music. This is the beginning of something amazing and the world can never have enough of GREAT music.
Website Links:
Check out Symphonic distribution here: symphonic.com