'2Baba' formally known has '2Face' is one of the best RnB artists to emerge from Nigeria and Blue Pie Records is ecstatic to announce that we are collaborating with the iconic artist and representing his music.
2Baba has established an extensive career over the past decades. Since 1996 he has been composing. In the early 2000s, he formed 'In Plantashum Boiz' with rapper 'Blackface Naija' and musician 'Faze' (Chibuzor Oji) which led to two successful albums: 'Body and Soul' (2000) and 'Sold Out' (2003).
In 2004 2Baba began his solo career generating a series of successful albums and singles winning him an array of awards including an MTV Europe Music Award, one World Music Award, Five Headies Awards (Hip-hop), four Channel O Music Awards, one BET Award, four MTV Africa Music Awards, one MOBO award, one KORA award and a series of further nominations.
2Baba has been faced with death twice and it is clear he has used these harrowing experiences as the drive behind not only his catchy lyrical masterpieces but continuous humanitarianism.
'Gaga Shuffle' is 2Baba's biggest hit in the last three years and has skyrocketed him into a global success. 'Gaga Shuffle' is a tribute to producer Larry Gaga whose groovy dance moves and composition of beats led to the inspiration and creation behind 'Gaga Shuffle'.
'Everybody do the Gaga Shuffle' spread across the recording studio instantly and it took less than 30 minutes for the energetic track to be created. The song produces a reggae-inspired beat supplemented with a catchy chorus, no doubt leading you to do the 'Gaga Shuffle'.
Listen here:
2Baba has collaborated with many affluent RnB artists including 'R.Kelly', 'Prince Lee' and the renowned 'Jay-Z'. It is clear 2Baba is an immensely successful artist, but he is also a humanitarian, being an ambassador for the 'Red Cross' society in Nigeria, and the National Agency for Food and Drug Administration and Control, ensuring he is supporting his home of Nigeria and assisting in the minimisation of poverty and narcotic addiction.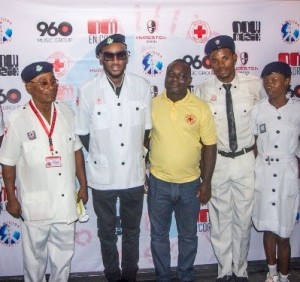 We at Blue Pie cannot be more honoured to have him on board.
Artist Links: