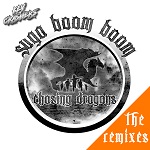 37K plays in 5 days! The Key Crashers' take on Suga Boom Boom is booming!
Last time we reported on DL Down3r and the Key Crashers, we brought to your attention a very special remix that the Crashers had brought to us. The one and only signature song of Mr DL himself – Suga Boom Boom, given a new and catchy twist!

Well, since then, it's been blowing up! Australia is a hard place to get noticed in the music scene, so it's truly something to celebrate and get hyped over that this track has broken five digits on the playcount in five days! 37K is a lot, but can it possibly go higher any faster? It wouldn't surprise us – after all, all of the Key Crashers' tracks are truly dank!
During the Summer of 2018, the Italian duo Simone Bergamelli and Dario Civillini joined forces to create a brand new project: Key Crashers, and boy are we glad that they did! These two DJs come from different musical backgrounds, and have had the chance to experience different fields related to the music industry. With their shared talent and experiences in different fields, they Crash their worlds together and fuse their artistry into something brave and new – a Key to a new generation of music, born of the communion of ideas!
Their main goal is life to produce any musical style they wish, and with experience and smarts like theirs, that goal is achieved day after day. Key Crashers is a music group without musical barriers. With releases based on what they like the most, they are mixing with passion, and that is reflected in their music! You won't find soulless shilling in their tracks. They aren't a slave to what the market wants. The market ends up wanting what they have, no matter what it is!
Whether you're here for the new and slick twist the Key Crashers have brought, or for the tried-and-true evergreen quality of Down3r's original Suga Boom Boom, all we know is that there's good music to be had here, and that's enough to interest us, no matter the style, no matter the vibe!
It's a veritable smorgasbord of good tracks, and these talented artists are the ones we can thank for that! Who says good music is dead?
Visit Key Crashers on Social Media!
Instagram | www.instagram.com/keycrashers
Twitter | www.twitter.com/keycrashers
Spotify | www.spotify.com/artist/7eDovjOhA5eT0H7hwt4ib8?si=lanjWCcYTsO30rCRGrUsMg
Visit DL Down3r on Social Media!
Web | www.down3r.com
Facebook | www.facebook.com/DLDown3r
Twitter | www.twitter.com/jwdown3r
For more information on Blue Pie Records visit:
www.bluepierecords.com
Soundcloud | www.soundcloud.com/bluepie/down3r-and-his-hit-song-you-aint-my-homie
For more information on DJ Central Records visit:
www.djcentral.tv
Soundcloud | www.soundcloud.com/djcentral/sets/key-crashers-suga-boom-boom-the-remixes