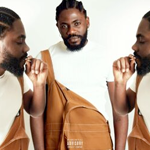 A Case Study in Afro-Pop goodness - ViQQ's NO CASE sets the Dancehall ablaze!
Get ready to move your feet and groove to the infectious beats of ViQQ's latest Afro-Pop single, "No Case"! The Nigerian-born Afro-RnB fusion artist has once again captivated audiences with his unique blend of afrobeats, dancehall rhythms, and catchy melodies. ViQQ, aka Victor Gborge, has worked with some of the best in the music industry, and it's always a pleasure to see him dropping a new release… and this is no exception, with "No Case" is set to dominate the airwaves and become the anthem of quarter 2, 2023.
Known for his love-infused and positive lyrics, ViQQ brings a fresh and vibrant energy to every song he creates. "No Case" is no exception, with its playful yet relatable theme. The track explores the dynamics of modern relationships, highlighting the need for personal space and freedom. ViQQ's expressive nature shines through in the song's funny and witty lyrics, allowing listeners to connect with his sincerity and authenticity.
The pulsating rhythm of "No Case" immediately grabs your attention, accompanied by ViQQ's smooth and soulful vocals. The song's catchy chorus will have you singing along in no time, while the infectious beats will undoubtedly have you moving to the music. The seamless fusion of afrobeat, pop, contemporary R&B, reggae/dancehall, and rap/hip-hop elements showcases ViQQ's ability to effortlessly transition between genres, solidifying his status as a versatile artist.
Here's a taste of the irresistible lyrics from "No Case":
"Girl what you want?
Tell me what you're saying real quick, what you want?
Calling on my phone like you're itchin' for a blunt
I don tire for your front"
With "No Case," ViQQ once again proves his ability to craft an infectious and memorable tune. The song's catchy melodies, relatable lyrics, and undeniable groove make it a must-listen for any Afro-Pop enthusiast. Whether you're hitting the dancefloor or enjoying a chill session with friends, "No Case" is the perfect soundtrack to elevate your mood and keep the good vibes flowing.
So, get ready to embrace the captivating sounds of ViQQ's "No Case" as it takes the music world by storm. Keep an eye out for ViQQ's upcoming projects and performances, as he continues to establish himself as one of Nigeria's most exciting and talented artists. For now, let the rhythm of "No Case" sweep you away and immerse yourself in the infectious world of ViQQ's Afro-Pop magic.
Listen to "No Case" on all major streaming platforms and join the movement. Don't miss out on the latest release from the talented ViQQ – a rising star in the global music scene.
But if you're new and need to be brought up to speed before you slap on your headphones, ViQQ is an Afro-RnB fusion artist. Born and raised in Lagos State, ViQQ discovered his passion for music at an early age. While still in secondary school, he began honing his lyrical skills by writing rap songs. After graduating, he wasted no time in pursuing his dreams, entering the music scene and making waves with his distinct sound. ViQQ's ability to infuse R&B vocals with afrobeats and dancehall elements sets him apart from his peers, showcasing his versatility and boundless creativity.
As you can see, ViQQ is a shining star that just keeps getting brighter, and we can't help but watch him go! Check out his catalogue for an all-encompassing and Viqqtorious explosion of music!
==========================
SOCIAL MEDIA LINKS:
==========================