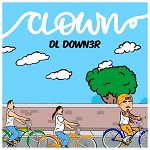 A new DL Down3r single and a new merch store! Don't miss out on CLOWN!
DL Down3r, AKA Mr Suga Boom Boom, continues his style of throwing down hard hitting bars that have something to say. Where an amateur rapper would just load their flow with threats and hate towards imaginary rivals, DL Down3r uses his expert rhythm and smoky voice to hammer a message home. That's right, there ARE still rappers who put their heart into their lyrics, and DL is a prime example of one.
Clown is a track that combines the anger of a diss track with the emotions of an introspective song. It's a pissed track, but a sad kind of anger. The kind of disappointment you feel when someone close to you has let you down, or changed for the worse – that's this song incarnate, and you can feel that in both the melody and the lyrics. This isn't the first time Down3r has impressed us like this either! Providing hope where there is often despair, DL Down3r opened up every pore of his living being, giving the world a collection of war-songs that tell a story as real as it can be told. From walking down roads that some of us never travel, to providing hope and compassion from a man that has lived a hard life, Down3r delivers it all. And luckily for you, Cotton Cart delivers his merch to your door! Show the man your support if he's ever touched your heart, and check out his and our other artist's merch stores on Cottoncart!
But what's Clown all about anyway? Sharing his experiences of life on the inside of the big house, Down3r outlines the experience of a toxic relationship as he waits to be released. The song isn't a typical diss track, trying to tear down an opponent, but rather a look back at a pathetic person who used to have a hold on him, going over everything she did wrong by him, and ultimately dismissing her as irrelevant – taking the "high" road in more ways than one. It carries an aloof attitude – it lacks the whiny anger of a typical breakup song, and showcases a combination of maturity and savagery that showcases the hell that Down3r has been put through. People who have seen the worst in life know what's important, and to Down3r, some petty clown who screwed him over couldn't be less important to him. He simply dismisses her with one song, then moves on, like crushing an ant. Destroyed. IRRELEVANT!
The syncopation of the trudging beats and DL's flow puts you in mind of carnival music – quite fitting considering the theme and title of the song. But make no mistake, this is still real hip hop, and it sounds just as good as any of DL's other classic songs that have brought in the fans time and time again. This is a call we would love to receive from a prepaid prison phone, although we can't say the same for the nameless target of the song, huh?! In any case, another classic to add to Down3r's arsenal. Hype, fam, hype. It's out now on all major online streaming services and retailers, so plug into it wherever you can! Links down below.
Through fierce and funky west coast rap, Down3r shares his prolific work with the rest of the world, and the stage with west coast rap legends such as Coolio, Brown Boy, Jay Tablet, Lil Young, Snoopyblue, LadyDice, Baby Bash, Steel City Hustlers, King Z and DJ Kane to name a few. From powerful messages, lyrical poetry and sharp comments on society, to G-funk and Trap/EDM hype songs, he proves that age and experience is the opposite of a liability in today's rap game. Blast it loud, get ready to feel something, and rest assured knowing that hip hop never died… you gotta be a real clown to think that it did!
SONG LINKS:
ALBUM LINKS:
YOUTUBE:
DL DOWN3R | OFFICIAL LINKS: