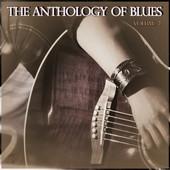 A Remedy to Shake of the Anthology of Blues
Anthology of Blues is the perfect combination of rhythm, jazz, husky vocals and a sneaky sax solo.  The album is a compilation of blue pie records finest Rhythm and blues artists, which could result in a much needed for a day of relaxation.
Each song will take you to a place of simplicity with the combination of brass instruments being used to paint a picture of the Western days. This album incorporates everything the vintage style of blues has to offer from Chicago blues to urbane, uptown jump blues to material like Jack Derwin's "Covered All in Blue." This album has it all.
If you like the easy, calm nature of blues or you're just looking for something to unwind to, than this album is for you.
Purchase-Link