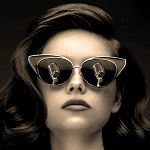 A spicy new hit just as the year ends! Key Loch's "Where Is The Love?"
Just as the year ends, here comes a song to really close things out on an emotional note. With a passionate and catchy bang, 2020 ends with Key Loch's "WHERE IS THE LOVE?"
Key Loch are Damien Reilly and Justin Gross. And this time, the duo are featuring a third member to their killer ensemble, that being Avery May Parker! A sweet and soulful performance in every lyric, Avery's voice and Key Loch's expert playing guarantee that every time you listen to "Where Is The Love", it'll hit you right where it counts. Especially with the one and only Maurice Morgan in charge of the lyrics!
This album is a modern love letter to the mo-town smash hits of old, and that's clear to see from the artwork, done by our very own Chloé Ruiz. The passion in this work is clear to see, not to mention the fact that Chloé took the vibe and ran with it! They don't make covers like this any more, and it takes a proper mo-town throwback like this to bring it all together! With artists like her and producers like Chris Garcia (yes, THE Chris Garcia!) the sky isn't even the limit – it's just a pit stop!
The year of 2020 has been rubbish but one of the ways that "Where Is The Love" tries to fight this is by being a beacon of hope coming out right at year's end. This song is all about moving on to better things, demanding more than the scraps that have been doled out, which we can all do in our everyday lives! Because we deserve to.
We deserve more than the hands life deals us. We can stack the decks every corner we turn, and songs like this are an excellent way to do that – they're the aces up our sleeves. It doesn't matter what life has planned for us – we're taking charge now. Destiny doesn't exist and "Where Is The Love" is here to spit in the face of fate. Passion is the spark of those among us who have agency, and the talent and production teams of this song are just some of the human race who live by that mantra of passion… and we're willing to bet that you, too, dear reader, also live by that mantra. So why hide it? Play that music loud and seize the reins back into your hands. You run this town.
The future is bright and Key Loch are wearing shades as they unlock the musical doors of your mind and fill it full of great music. This is the beginning of something amazing and the world can never have enough of GREAT music.
Key Loch are a Blue Pie Records USA artist published by Blue Pie Publishing USA (ASCAP) for the world. For more information on Key Loch you can visit their website at www.keyloch.com or check out where it all began for Damien and Justin at Southpaw | www.southpawmuzik.com