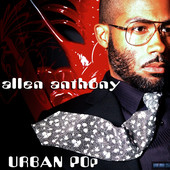 Allen Anthony hits all the right notes with his 'Urban Pop'
It's hard these days to find musicians who go outside the music genre box and create something different that sounds great. Well that's exactly what Allen Anthony delivers in his latest album 'Urban Pop' – an album that has the perfect combination of urban and pop.
With a silky voice like Usher and sultry beats like George Michael, it's hard not to get into Allen's latest album. The album features 7 smooth tracks including 'Can't Get Away', 'Chocolate', 'Everybody, 'My Room', 'One 2', 'Sentimental', 'So Devine' and 'Zig Zags.' Urban Pop also features 3 remixes of his popular song 'Who You With' including the Radio Edit, Robotic Remix and a duet remix featuring Stick Emz. So if you're one who likes their nights laid-back, this album will make it complete and give it that 'Mr Smooth' touch.
Urban Pop is available to preview and download on iTunes in the link below.
Purchase-Link