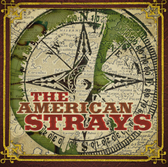 Americana/ Rock duo, The American Strays release their self-titled EP!
The American Strays, being the newest and hottest sound on the Americana/Rock scene, is what can only be referred to as the "brainchild" of Minnesota grown artists Suzanna and Matt Honer.
With the help of music producer Scott Matthews, who has worked alongside artists such as Bonnie Raitt, Robert Cray, Elvis Costello, Roseanna Cash and John Hiatt, the dynamic duo has pulled together a six-track self titled EP that we can assure you will bring listeners back for more.
"Bound" the third song on the track sets the bar for the entire act, its even layering and unique melody stamping the song with its own personal identity which has been described as "fresh and real" by A&R man Ted Myers formerly of Concord and Rhino Records.
So if Americana/roots music that has a great rock edge is the type of thing you look for in a great act, make sure to check out The American Stays self titled EP today on iTunes!
Purchase-Link