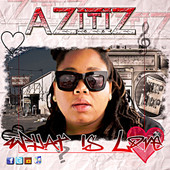 Azitiz Signs Global Agreement With Blue Pie !
Azitiz- a soulful hip-hop artist with a knack for percussive talent! This happening artist is, "ready to leave the crater, meaning she's going to make an impact!" Her style is true to the roots that created the great urban talent of our time, and her voice floods your head with easy listening, memorable lyrics and infectious percussion. She takes her inspiration from legendary acts; 'Missy Elliot', 'Basement Jaxx' and 'Queen Latifah', with added flare that oozes catchy. She injects cool into your ears with her hook-heavy brand of hip-hop.
Azitiz has been recently noted as one of the must see female MC's  by 'Click' and has recently began performing on Arkansas hip-hop television show, 'Zone 24 TV'. Blue Pie are happy to have picked up Azitiz on an exclusive global distribution and publishing administration agreement. Chill and check out her latest single, "What Is Love" now available on iTunes!
Purchase-Link