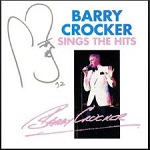 Barry Crocker returns to sing the hits once again!
Barry Crocker is a known name in music for a valid reason. He sang the opening theme to the popular Neighbours TV show, and he has also promoted the sports team The Cats with a series of anthems, and covered plenty of classic songs before. But Bazza is back, and this time he brought bombastic company- the Tony Hatch Orchestra are with him!
This album of 20 songs runs for an hour and 14 minutes, and features some truly classic songs like How Deep Is Your Love and Sunshine On My Shoulders. And yes, you read correctly, the Tony Hatch Orchestra complements Barry's distinct vocals perfectly. bringing the entire swooning experience to a musical crescendo that you can truly lose yourself in. Indulge yourself in this truly excellent Spotify playlist today!