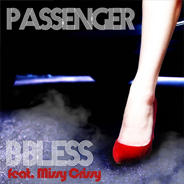 Be the next 'Passenger' to this enticing beat....B-Bless Ft Missy Crissy and Passenger !!!
As soon as 'Passenger' starts playing you're lured in by a swinging saxophone that sets the suggestive mood for the rest of the track. Passenger is the newest beat to drop from B-Bless ft. Missy Crissy.
The song begins with a slow classical jazz composition then leads into a fast-paced rap supplemented with a high melody from Missy Crissy, while a strong RnB/Electro-pop beat pulsates through the song reflecting both artists and their genres accordingly. The lyrics describe a love affair and easily resonate thanks to the catchy beat.
You become a passenger to the song as it drives you into an undeniable groove that leaves you wanting to dance the night away.
B-Bless is a New York born RnB/Rap artist who uses his New York roots as the inspiration behind his work. His music is unique, respectable and showcases a different take on RnB/Rap which is undoubtedly heard in this new track.
Passenger incorporates a rhythmic rap with an enticing pop/dance beat that differentiates from common RnB thanks to the exclusive tone of Missy Crissy that complements B-Bless perfectly.
Be the next Passenger in Missy Crissy and B-Bless' Musical Masterpiece

Listen to it here!
soundcloud.com/bluepie/b-bless-ft-missy-crissy-passenger-extended-mix
Artist Links:
Purchase-Link