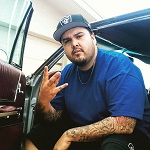 Bigg Cixx is hustlin' his new single on your Spotify!
Bigg Cixx is just a hustler- he's an honest man trying to get his music out there to the world, and so far the world has been completely happy to receive it! And that most definitely includes us- we can't get enough. So imagine our delight when we saw that his newest single was due to drop last week! That's right, Just A Hustler is available now from all major retailers, and the music video is even ready for public view, check it out by clicking here!
It's that classic flow Bigg Cixx is known for but hyped up and quicker than typical! And that beat is quite different to the usual cruisers we've heard from him in the past, so it's cool to see him branching out like this! It's always interesting when a quality artist with a distinct style does that. You can still pick out the root traits from their starting style, but see how they've progressed, grown, and changed by branching out into new territory- and we're happy to see that he obviously hasn't lost any quality along this journey of change!
While the song is chill overall as is expected from Bigg Cixx, it goes a bit harder and faster than his typical style, but it's absolutely welcome in his library!

Bigg Cixx is a Blue Pie Records USA artist and is published by Blue Pie Publishing USA for the world. You can check out more information and the latest news on Bigg Cixx at the following links:
www.facebook.com/BiggCixxBeats
www.youtube.com/channel/UCjQNbHF6jRIE0Vu3-P1dgeA
Check out some of these great hits now on YouTube: