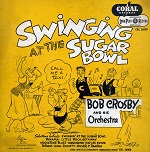 Bing Crosby's younger brother! Relive Swinging At The Sugar Bowl with Bob Crosby and his Orchestra!
The legendary Bob Crosby is here, straight from the Blue Pie archive! He's swinging at the sugar bowl, and straight into Spotify and all other major online retailers and streaming services!
Best known for his group the Bob-Cats, Bob Crosby was an American jazz singer and band leader, and younger brother to Bing Crosby. But far from living in his brother's shadow, Bob also struck it big with hits like this!
Part of the colossal Blue Pie Archive, this music has been lovingly restored so that age may not weary it, and that its audio quality can be updated so it's almost like it was recorded today. If you ever wanted to stroll down memory lane, you could click here, or simply get a taster by looking at the playlist itself.

Every album within has been carefully restored to smooth out the audio quality and remove any distortions where possible. This album in particular contains some of the greatest songs produced by Bob and his Orchestra, with some tracks originally issued by the Bob-Cats. With Matty Matlock on alto sax and clarinet, Bob Haggart on bass, Irving Fazola also on clarinet,  Ray Bauduc on drums, Nappy Lamere on guitar, Bob Zurke and Jess Stacy on piano, Eddie Miller and Gil Rodin on tenor sax, Billy Butterfield on trumpet, Carl Ed as the album illustrator, and of course, Bob Crosby himself as the leader and his Bob-Cats and Orchestra, this is an all star cast that is sure to please all the vintage fans in the audience!
If you're up for a further stroll down memory lane or want to check out more about this album, you could always check out the official discography here for further research! But until next time, keep on swinging in the sweetest part of nostalgic 50s town – the sugar bowl!