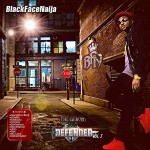 BlackFaceNaija drops a monster album with "Defender Vol, 1"!
BlackFaceNaija's spectacular comeback album is live on Spotify for all to hear! That's right, "Defender Vol, 1" is ready to listen to! A huge 20 track album that blew first time listeners out of the water! What a way to come back from a hiatus starting in 2010- 7 years!
This comeback album was a fantastic resurgence, and featured about 20 songs, with catchy hits such as "Lifetime", "Omeworom" ft Mc Loph, "Show Love", "Robadoba", "Abi Pale", "Killah", "Love To Love You" and many more! It made 2017 a wonderful year for Nigerian music.
Be sure to spread the link around to everyone who appreciates great music! Africa can get the musical recognition it deserves through the hard work of artists like BlackFaceNaija! https://open.spotify.com/album/4SElg5y4oSoZXkwlaXyAyV?si=2xmF90o2RS-E63krsmuPGA%C2%A0
BlackFaceNaija is now working on his next album called "Rising Sun" due in September 2019! Hopefully it'll make this year just as good a year as 2017 was due to his amazing passion and talent. "Rising Sun" features promising tracks such as "Love You Na Crime", "Badder Than Them" ft Skinny Rose, "Freedom", "Sk Malawi", "BuzMan of Def O Clan", "Internet Girl", "Naughty With You" ft Mackakay, and "My Avenue"!
"Rising Sun" is enjoying massive success on Airplay, and is just what Nigerians and BlackFaceNaija fans all over the world are waiting on! Stay tuned, because a release date will be announced in no time, and Naija will continue bringing his amazing and distinguished music to the people who need it! Give it up for musical excellence!
BlackFaceNaija is a Blue Pie Records USA artist and published exclusively by Blue Pie Publishing USA. For more information on BlackFaceNaija please check out the following links.
BLACKFACENAIJA OFFICIAL LINKS: