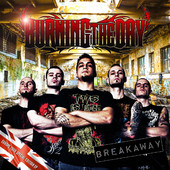 Burning The Day Presents EP "Breakaway" in Time for Europe Tour!
Canadian thrash metal heads 'Burning The Day' have released an early five track EP in time for their tour of Europe!
It includes the five of their latest singles; Breakaway, Rope In Hand, Buried Beneath, Kill Song and Pistols And Pigs.
Expect the best of thrashing heavy brutality! If you like what you hear, be sure to head to the 'Burning The Day' Official page!
Pick up your digital copy today on iTunes!
Purchase-Link