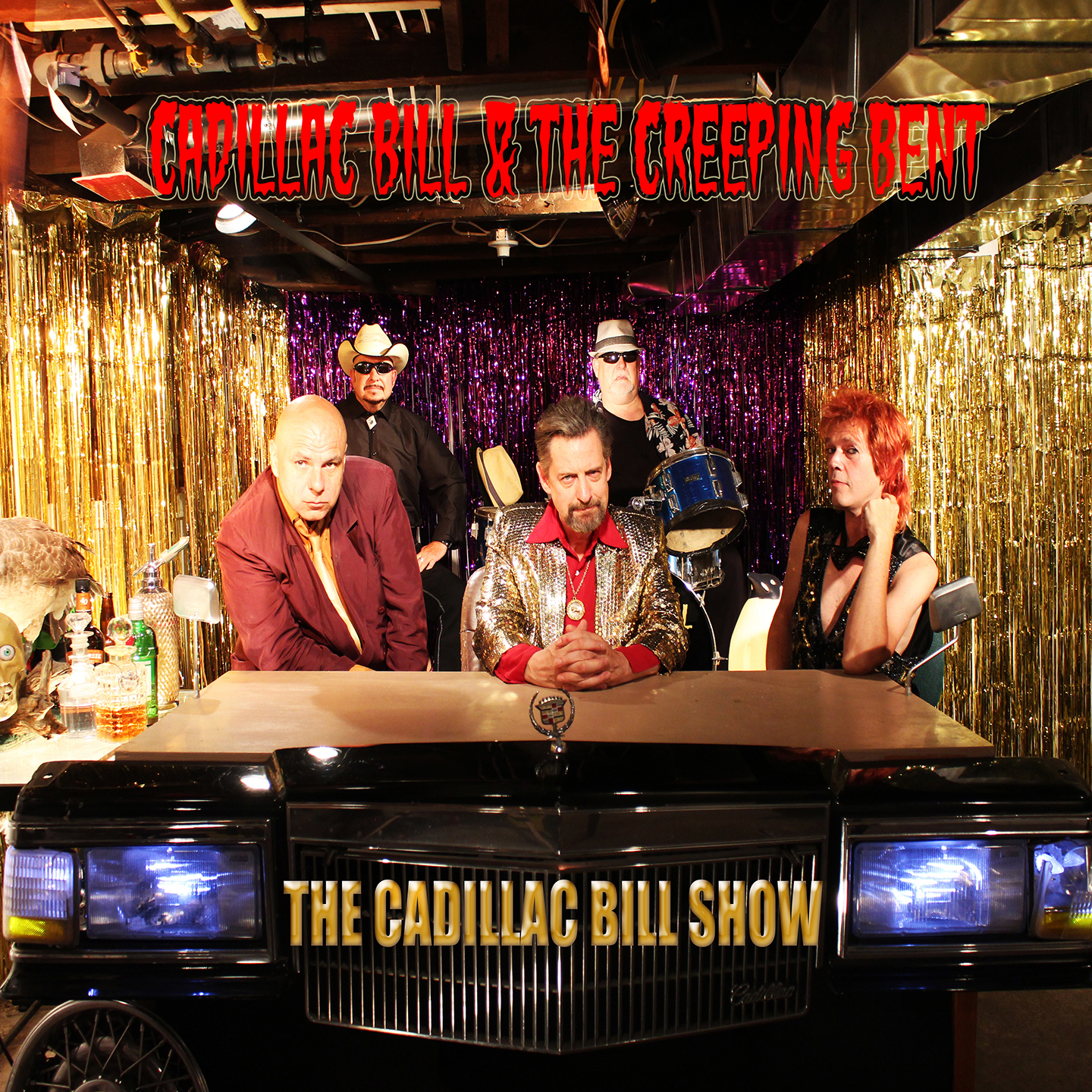 Cadillac Bill and The Creeping Bent ignite the airwaves with some of the biggest hits out now on their new album called " The Cadillac Bill Show " - A guanteed Zanex Killer for your ears !!!
Eclectic music through the ages and featuring musicians from THE COWBOY JUNKIES and includes the full length theme from THE CADILLAC ILL SHOW. Mastered (and mostly recorded) at BLUE TILT STUDIO.
The album is distributed exclusively for the world by Blue Pie Records USA and available in CD format at Dr. Disk, Cheapies and Sunrise Records in Toronto Canada.
Listen to "Eating out on SoundCloud"
Cadillac Bill And The Creeping Bent – Links
We have also put some more historical information below for all of you DIE HARD CB fans !!!
Remember to visit www.cadillacbill.ca for all the latest news on CB.
WE LOVE CADILLAC BILL & THE CREEPING BENT…….word !!!
THE STORY OF CADILLAC BILL & THE CREEPING BENT
CADILLAC BILL is a long stemmed Texan weed from England. Creeping bent grass is also a long stemmed weed than grows throughout this planet. Together, they form a blend of psycho surf and "garage" rock 'a' Billy—oozing together, ala The Cramps and The B-52's. The circus like stage show includes 18 feet of purple and red glittery backdrop, a chrome Cadillac emblem, 2 bubble machines,
fire, lights, smoke and action.
CADILLAC BILL (Boyd-Wilson) studied film at the U.C.L.A. and animation at Sheridan College. His first band was THE EDNA, MONA HOUSEWIFE DEATH BAND and lasted a creative but uneventful few years. In the late 80's, Bill moved in with THE COWBOY JUNKIES and it was at this time that he put aside film making to tell stories via music. THE CREEPING BENT soon sprouted and by 1990 had bloomed, flowerlessly, into the long twisted weed that it now is. The CADILLAC BILL experience has become a polished stage show of talented and eccentric characters and possibly
the most enjoyable live fiascos in the Canada music scene.
C.B. & THE CREEPING BENT has toured Canada 6 times, opening for such acts as JUNK HOUSE, WEEN, THE HEADSTONES, WILD STRAWBERRIES, THE TUBES, RAY CONDO, TEENAGE HEAD, DREAD ZEPPELIN, BIG SUGAR, THE GRUESOMES and ALANNAH MYLES. The band were quarter finalists in the North by Northeast Internet Battle for the Bands and semi-finalists in CFNY's Canadian Music Search. They also performed for the COCA National Showcase, resulting in many nationwide University shows. In 2007 Cadillac Bill's album "Route 666" was nominated best album at the Hamilton Music Awards and was voted "best local band" and "best web site" by View Magazine. In Toronto, Eye Magazine honored Bill as being "Toronto's Coolest Musician." The band has been on the cover of View Magazine (3 times), Eye and Pulse.
DISCOGRAPHY:
"NO TURNING BACK, GREATEST HITS"(Cassette)was released in 1991 and immediately became popular on College radio stations across Canada. The band was hailed as one of the greatest and most unique live experiences.
"DINING OUT"(1995; Full-length CD) Produced by Peter Moore and distributed across Canada by Page Music. The band, by now had three videos that were featured on many nationwide TV stations, including MUCH MUSIC.
"EATING OUT" (Four song CD-EP) Limited edition collectors release, complete with Cadillac Bill and "Cannibal Rollerbabes" trading cards. Only 500 pressed and released in 1997 by Bhurr Records.
"ROUTE 666" CD released on 2007, distributed by Scratch Records. This album charted on College radio stations across Canada and was #1 for several weeks.
VIDEO/FILMOGRAPHY:
2018 – THE CADILLAC BILL RADIO SHOW (16 episodes on Cable 14)
2017 – Video for "SHORTNIN' BREAD"
2013 to 2017 – THE CADILLAC BILL SHOW (60 episodes on Cable 14)
2014 – 1 hour documentary: "THE CADILLAC BILL STORY"
2012 – Video for "DRAGONS"
2012 – Video for "THIS SONG"
2012 – Video for "PEOPLE EATING PEOPLE"
1997 – Cadillac Bill songs used in the feature film "CANNIBAL
ROLLERBABES:
1996 – Video for "BEING HUMAN"
1991 – Video for "BOOMERANG"
1991 – Video for "#3 MILKY WAY"
Bill put his band on a hiatus from 2013 to 2017 to host and produced 60 episodes of THE CADILLAC BILL SHOW on Cable 14. Spoofed up public affair commentaries, talking to ghosts, UFO, dragon and alien discussions, woman's roller derby, petting zoos, reptiles, Civil War reenactments, classic
car shows, a space alien called "ALLAN", a C.B.S. drone, comedy commercials and paranormal investigations.
Burlesque dancers, wildlife investigations (with the C.B.S. Safari Expedition Team), "searching for dead bodies" (by PAUL THE DOWSER), "Wienerfest", War of 1812 reenactment, a reporter in England, wrestling and seven episodes of a spoof of Downton Abbey using stuffed, taxidermied rats. Musical Guests have included TEENAGE HEAD, LORI YATES, TOM WILSON, GINGER ST. JAMES, GORDON LIGHTFOOT, RONNIE HAWKINS, DANIEL LANOIS, ANVIL and ROBERT GORDON.
Bill was nominated "Media Person of the Year" by Hamilton Music Awards for 2016 and was voted Hamilton's favorite TV personality (for two years in a row). Extensive media coverage and daily airing of the show on Cable 14 and on Youtube has now elevated THE CADILLAC BILL SHOW to a cult TV classic.
THE CADILLAC BILL SHOW is distributed by PLANET BLUE PICTURES (out out Australia) and can now be seen on MUZU TV, Sony TV, Vimeo, Samsung TV, XBOX LIVE, AMAZON, Pivotshare, iTunes, Roku and SPBTV. The show is presently being translated into four languages.
Bill's DOWNTON ALLEY was received with great reviews across Canada in 2017. with a front page article in The Hamilton Spectator, View Magazine, Raise The Hammer and C.B.C. News. As well as interviews on CHML, CFMU and C.B.C. Radio "As It Happens".
Also in 2017 Bill hosted a radio show on FUNNY 820 (CHAM). A one hour, radio theater with his sidekicks: DAN KOLTHOF, GINGER ST. JAMES and JOHN SLOMKA. Guests have included RONNIE HAWKINS, MICKEY DESADIST, LEARNING WITH LEXI and PAUL THE DOWSER (who opened up a portal to bring in a 5th dimensional entity into the studio while a clown made balloon animals. Also a "flat earth" episode and a U.F.O. special with JACK PEDLER. More of the usual … UNUSUAL.
THE CADILLAC BILL RADIO SHOW can also now be heard as a podcast, each week on the iHeartRadio app. Bill has 16,000 followers on Facebook, 66,000 views on YouTube and 3,400 followers on Twitter.
In the summer of 2017, after a 5 year hiatus, CADILLAC BILL & THE CREEPING BENT reformed to perform in local clubs and festivals.
CURRENT LINE-UP
CADILLAC BILL –vox, guitar
BILLY BECKER –vox, lead guitar
DANNY K –drums
MIKE WILLIAMS –bass
SHANE SHAFT – mc, percussion
CD RELEASE SHOW – Friday, July 13 at THIS AIN'T HOLLYWOOD with (comedian) BRENDA LENNIE, WILL GILLESPIE and SAMMY SQUID & THE SQUIDS
Links to music videos from "THE CADILLAC BILL SHOW" CD:
Eating Out:

Dragons:

This Song:

Shortnin' Bread:

Boomerang:

THE CADILLAC BILL STORY: