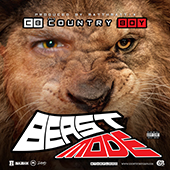 CB aka Country Boy gets his "Beast Mode" and gets the love from the UK press !!!
CB aka Country Boy was just recently added to the DJ Central roaster via the WON Agency. CB is an American hip hop musician, song writer, producer, director, and actor from Houston,Texas.
Through his years of hard work and dedication and much adversity, Country Boy has developed into a force to be reckoned with. Right now has a hard hitting new single 'Beast Mode' with a hot music video to go along that is sure to made you rock out. CB will also be heading out on tour through July to August with MACSHAWN100 and Snoop Dogg.
Check out the full video here:

Check out some of the " Exposed Vocals " interview below:
Exposed Vocals: So tell us your story. Where did you grow up? What made you decide to become an artist?
CB aka Country Boy: I was born in Louisiana, but spent most of my life in Houston, Texas. I've loved music from an early age. In grade school I joined the school band and learned to play several instruments including piano and drums. Later in my High School years after being in concert band and drum-line I saved up money by cutting grass around my neighbourhood and bought my first beat making program and computer. I didn't know much about studio stuff then, I just started making beats and writing raps in most of my spare time. Eventually that hobby became my passion and it was history from there!
Exposed Vocals: How did you come up with that name? What was your inspiration behind it?
CB aka Country Boy: Well my first name was Chattaboxx in my early teenage years but I later shortened it to just CB lol. After signing my first record deal we came up with the name "Country Boy" since I am a southern hip hop artist with country roots and it would also fit my CB initials. It was a much more marketable name and it fit me well. Recently we've been in a re-branding process to switch to CB aka Country Boy since there are so many other artists named Country Boy online, I didn't want fans getting confused.
Exposed Vocals: What do you think about online music sharing? Do you ever give your music away for free? Why?
CB aka Country Boy: I'm 50/50 on online music sharing. It's a cool way for upcoming artists to showcase and share their music but you have so many others that abuse these platforms. I myself have gave away a ton of free music to expand my brand, gain fans and their trust. The initial building period is very important for all serious artists.
Exposed Vocals: Since everyone was a start-up once, can you give any smaller or local bands or artists looking to get gigs and airplay some tips?
CB aka Country Boy: Start small and grow. Play for small gatherings, house parties, open mics or mixers. There are also pay to play opportunities for artists to open for bigger acts if you have the budget. This is a another great way to get your name out their and grow your buzz but do your research on the promoters to make sure its legit. To gain airplay research hot DJs in your area. Try to get music to them but be respectful and professional. Also reach out to local radio and online radio stations for contests or placement opportunities. Most of the time you can find ways to submit music just by researching online or asking around.
Press Release Links:
For more information on Country Boy check out the official links below: