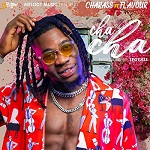 Charass Cha Chas his way into our playlists!
So there's been quite a few great hits from Charass, yadda yadda, but could he pull it off again? You bet Charass!
Cha Cha, much like the dance of a similar but different namesake, is catchy and smooth. It's exactly what you'd expect from not only Afropop, but Afropop of Charass' level of standards! Luckily, it's all over the internet, not just on Youtube for your viewing pleasure, but also on Spotify and all other major online streaming services and retailers. That's great value! Cha Cha on the go, wherever and whenever you may need this amazing new hit!
Charass may be a new face as far as our news reports go, but he's been in the game for a while now and we've had our eye on him for that long too. And what's more, the breadth of his experience really shows in the quality of his music! There's a slick kind of style involved with all of his work, one that only comes from artists living their dream. Yep, he loves every second of his work, and we love to watch him go too! That's why we've followed him on Youtube and Spotify… He's impressed us, and now that we're intrigued, we don't wanna miss a beat!

If you wanted to follow along, check Charass out on social media! We haven't heard the last of him, either way… and good thing, too!
SOCIAL MEDIA LINKS