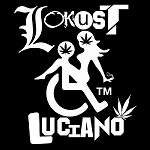 Checking All the Boxes: Lokust Luciano's 'Chin Chec' Delivers a West Coast Knockout
It's about time that we freshen things up with yet another West Coast banger that'll have you nodding your head. Presenting CHIN CHEC by Lokust Luciano!
Sharing a similar sounding title to an NWA classic, West Coast hip-hop fans will have plenty to chew on with this new single – get ready to turn up the volume and vibe to the hottest release that delivers a deep-cutting message while maintaining a catchy beat and flow to boot.
This hard-hitting track pays tribute to the homies who couldn't witness his rise to success, or perhaps the ones who were there for him as a person, rather than chasing his status from success. The lyrics are deeply introspective, capturing the struggles and triumphs of his personal journey. Through his distinctive lyrical delivery, Lokust Luciano takes listeners on a captivating ride, sharing his experiences with authenticity and raw emotion.
The track's chorus echoes his unwavering commitment to his roots and the lasting impact of those who have supported him along the way. Lokust Luciano's devotion to his craft is etched into his very being, "embedded in his skin". He reminds us that not all foes are what they seem, as he navigates the treacherous waters of the music industry and life itself with an unshakeable resolve.
Lokust Luciano's lyrical prowess shines through each verse of "Chin Chec," revealing his unique perspective on life, success, and the struggle to overcome. He cuts his own path, refusing to conform to trends and staying true to his individuality. His confidence is palpable, as he reflects on burying past friendships that no longer serve him and asserting his place at the forefront of the game. His lyrics let us see a side of his past wherein others took advantage of him, due to their prowess at acting friendly in order to chase his clout. Each of those encounters was a lesson to Lokust, one which he's all too happy to pass on to those who would listen to his lyrics, so we can avoid the pain he's experienced.
The West Coast influence is evident throughout "Chin Chec," with Lokust Luciano effortlessly blending his signature style with the region's iconic sound. The beats hit hard, leaving no room for hesitation. As you nod your head to the infectious and chill rhythm, you'll feel the energy coursing through your veins, compelling you to hit the repeat button again and again as you cruise and cruise.
Lokust Luciano's rise from adversity to acclaim is a testament to his indomitable spirit. He has cemented his place as a producer and rapper to watch out for, earning him the self-made moniker "Crippled Kingpin." His determination to overcome obstacles and his unyielding dedication to his craft have endeared him to fans far and wide.
"Chin Chec" is just a taste of Lokust Luciano's musical genius, a teaser of what's to come from this West Coast dark horse. As he continues to push boundaries and challenge the status quo, we can only anticipate more spicy releases from the Kingpin himself. Keep your ears to the ground and be prepared to be blown away by Lokust Luciano's unstoppable drive and undeniable talent.
So, crank up the volume, feel the bass reverberate through your soul, and immerse yourself in the infectious energy of "Chin Chec" by Lokust Luciano. Let his lyrical prowess and West Coast banger vibes transport you to a world where resilience reigns supreme and success is within reach. Lokust Luciano is here to make his mark, and we're all witnesses to his undeniable rise to greatness.
Lokust Luciano was born William Arciszewski on June 21st, 1988 as a premature baby, and diagnosed with Cerebral Palsy. He grew up in North Fort Myers and began writing poetry at the tender age of 9 years old. He has been active in multiple facets of the Hip-Hop scene since 1998. He moved to Florida for leg surgery when he was very young, as the medical world at the time (1988) didn't have a solid understanding of Cerebral Palsy yet, so he had to seek out an expert specialist. Orlando was the only place he could go for it, and he came out on the other side grinning. He is well known in the underground music scene for his production talent and lyrical delivery. He is also sometimes known by the handle "Crippled Kingpin".
The adversities he has overcome are now a part of his personal aesthetic, showing his strength and sturdy sense of humour. His creative drive is unstoppable, and we're sure you'll agree when you see some of the hits from his catalogue that have been turning heads his way! We'll see you there, and until next time, do what we're planning to do… keep your ear to the ground for some spicy new releases from the Kingpin himself!
For more, check out Lokust's bio here!