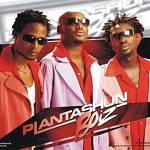 Chill out to the Plantashun Boiz! They're BACK with "The One"!
We last heard from the Plantashun Boiz last year, with their single "You And I". That release proved to be their most popular track on Spotify, at over 36,000 plays at the time of writing! It was a heartfelt and romantic track, and you could hear the sorrow and longing in the voices of the singers.

Now, 2019 graces us with the return of the esteemed group, with their new single, "The One"! It's gaining traction fast, and is shaping up to be one of their most hype releases yet!

You can feel the passion in this one, and it's a bit more upbeat than last year's! But just because it doesn't have the same sombre tone as "You And I" doesn't mean it isn't just as emotional. Because it certainly is! You can hear the love that the Plantashun Boiz have for their craft, made manifest in one of their finest works yet. Not to mention it's chill and smooth in the best way possible! It'll have you kicking back, reclining, and nodding your head to the beat. Not to mention the sincerity of the lyrics. You can truly feel the whole heart of the Boiz in this one! It's great to see the band that our very own BlackFaceNaija helped form still doing great things in 2019! It's a blessing that the band reunited in 2014. The musical world would be incomplete without them!
Check out more of the Boiz with their official links:
www.facebook.com/Plantashun-BOIZ-2001808926795165
www.rateyourmusic.com/artist/plantashun-boiz
www.last.fm/music/Plantashun+Boiz/+tracks