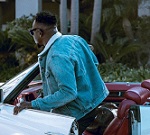 Chilling to Sean Tizzle gives the same happiness as winning the lotto!
Stop. Slow down. We know this world is busy, it's stressful, it never stops moving. So why should you? Well, if you don't, you'll never stop and smell the flowers, so to speak… so you might not discover amazing chill hits like Lotto!

As soon as you hear it, it grabs you. Not roughly, but like a tantalising scent. It captivates your attention then gently draws you in. It's a beautiful arrangement in that way- the chill melody, catchy drums, and soothing voice of Sean Tizzle will make you realise just how much tension was in your shoulders, your clenched jaw, your forehead- stop frowning! Just chill and let the song and its romantic lyrics embrace you.
It's that classic Sean Tizzle style that's perfect for smooth parties or afternoons cruising around your neighbourhood- either occasion welcomes his chill aesthetic into your speakers!
That one there is "Pempe", Sean Tizzle's number one hit on Spotify- with hundreds of thousands of plays! You can hear his chill style in this too, front and center.
You can also hear it in his team-up with DJ Prince, "In My Head", but this one is a bit more upbeat, perfect for dancing without it being too intense. It's approaching 100 thousand plays on Spotify too!
As you can see, Sean Tizzle's distinctive musical aesthetic is what has given him so much love from the masses lately, and it's wholly deserved! And the chill, relaxing energy in "Lotto" truly brings that home in a way that we haven't seen before! It may just become his newest hit. Kick back, relax, and watch the world fall in love with Lotto! It's what we're planning to do on our weekends… A huge note of thanks goes out to our very own Nedjon for bringing Mr. Tizzle to Blue Pie Records and DJ Central Records.
Sean Tizzle Official Links:
www.seantizzlemusic.com
www.twitter.com/iamseantizzle
www.youtube.com/user/officialseantizzle
www.facebook.com/seantizzleofficial
www.instagram.com/iamseantizzle