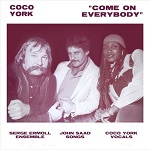 COME ON EVERYBODY! 8 blissful minutes of amazing jazz awaits you!
Can you feel that? That freeform excitement in your soul, driving you to zone out or to get up and dance? That's the power of jazz baby, and Coco York, Serge Ermoll, and John Sadd have come together on our Soundcloud to deliver it! "Come On Everybody" is ready for you to listen to in the purest of 12 inch vinyl quality- crisp, beautiful, and nostalgic!

Oof, you can feel it as soon as you hit play, can't you? And that's just one track in the trio's arsenal! We're glad to be bringing it to the world, because we know the world appreciates amazing music just as much as we do. It's a musical treat for the oldies and those who can appreciate true vintage work regardless of age. We know you're out there- genres like electroswing wouldn't exist if you weren't! So to all jazz fans young and old, this is Blue Pie's gift to you.
And this is a little something extra! Serge Ermoll is a big name in jazz, in particular Australian Jazz. "Come On Everybody" is a re-issue of a biiiig Jazz record, and since we're talking about such things, we figured you'd appreciate this playlist dedicated to the man himself!
But if you're not a Spotify kind of person, we also have a throwback to the glory days as a cherry on top. All you Australian jazz fanatics from back in the day! Remember when this was broadcast live?!
Serge Ermoll (Live on Australian TV on Channel 7) from Planet Blue Pictures USA on Vimeo.
This song has been licensed to VIMEO by DJ Central TV, Blue Pie Records and Planet Blue Pictures.
Serge is the son of Sergei Ermolaeff, a Manchurian born, Russian jazz orchestra leader. In China, Sergai worked as a drummer/musician, building a reputation as one of Shanghai's more notable orchestra leaders during the 1930's and 1940's. While experiencing the onset of the communist revolution in China, Sergei and his wife Xenia (singer/dancer) and son Serge Jr, won passage on the Chan Sha ship migrating to Australia in 1951.
For nearly forty years, jazz pianist Serge Ermoll has been renowned for his exceptional skills, constantly pushing boundaries, while defying the marketplaces demands to conform. His group, Free Kata, formed in the 1970s, "…ripped open the heart of music aesthetics in Australia." (John Shand, Sydney Morning Herald, August 2003).
Ermoll played with some of the greats of the international jazz scene. During the recording of more than twenty-nine internationally released albums and playing on the live circuit across the globe, he has created moments with some of the greatest names in modern jazz.
Visiting the UK in the late sixties, he was invited to fill in for Dudley Moore, when he was invited to Hollywood. A revered musician before finding fame in the latter, Moore never returned to the UK as a regular player. Serge went on to become an integral member of what was the Dudley Moore Trio, with Chris Karen on drums, originally from Melbourne, and Pete Morgan on bass (British) who was also a great vocalist. Serge was playing consistently for the next seven years in the territory as a result. Serge was a regular at the prestigous Ronnie Scotts, to sight one example, during that period.
Other artists of significance Serge has collaborated with include Richie Cole, Lester Bowie, Don Moyee, Phil Woods, Art Pepper, Joe Henderson, Eddie Moore, Herb Ellis, Ray Brown, Sonny Stitt, Jimmy Whitherspoon, Ernestine Anderson, Dizzie Gillespie, Roscoe Mitchell, David Leibman, Odeon Pope, The Art Ensemble of Chicago, John Scofield, George Cables, Branford Marsalis, Ralph Pena (bassist from Clare Fisher's Band), John Lee (bassist from McCoy Tyner's Band), and many more.
Unfortunately, in 2010, Serge passed away. Serge was renowned for his passion, his exceptional skills & his love and dedication to his family and friends. Boasting a 5th Dan black belt in karate, and formerly having a day job as a private detective, Ermoll had always been a character, within and beyond his music.
We hope you enjoyed this trip down memory lane just as much as all of us!
Check out Serge Ermoll's memorial pages on Facebook and Twitter here!
www.facebook.com/jazzsergery
www.twitter.com/sergejazz