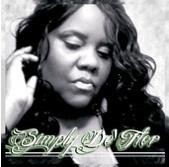 Cornelia De Flor's new album is simply irresistible!
Smooth, sexy and sultry…those three words sum up Cornelia De Flor's latest album Simply De 'Flore'.
Cornelia hits all the right notes in this album, as her silky voice perfectly matches the traditional RnB beats. The timeless vocal combination in this album will transport you back to the era where classic RnB was at its prime. Cornelia also provides a whole range of moods throughout the album from the heavy and slow paced beats in "Back and Forth" to the more upbeat and choir-filled tracks such as "Meet me at the Altar". So if you're after something a bit more on the smooth side, then Cornelia's latest album will have your ears seduced till the very last beat. To preview or purchase Simply De Flor, click on the link below.
Purchase-Link