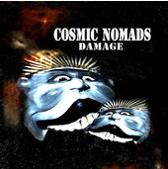 Cosmic Nomads latest album 'Damage' is out of this world!
Brace yourselves fellow rock fans because the Cosmic Nomads are at it again in the rock scene with their latest album called Damage. Damage contains 10 tracks of contemporary and indie rock similar to that of The Killers and Muse which is reflected especially in Milky Way Love and I Hate You. Along with this unique blend of rock genres, the Cosmic Nomads still effortlessly maintain their raw, edgy lyrics and vocals which fans have fallen in love with for years. Even the Associate Editor of Drum Media, Michael Smith, has fallen under the band's cosmic spell after raving about their latest album in his review:
"The Cosmic Nomads of 2011 began with his discovery of the guitar – one strum of his Gibson Explorer through a Marshall amp and he was hooked, and the songs literally poured out of him. The first ten are here on Damage for you to savour, and again, the mix is just as intoxicating, from the ethereal pop of opening track, Milky Way Love, to the '60s pop of the single, I Hate You. You might hear a hint of Zeppelin here, Guns N' Roses there, The Easybeats or Neil Young, but in the end, Damage is very much pure and inescapably Cosmic Nomads – future sounds of today."
With a review like that, how could you not be tempted to give the Cosmic Nomads a go? 
Purchase-Link