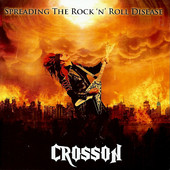 Crosson Is Infectious with Rock n' Roll Disease !
Theatrical punk rock band Crosson is contagious with their latest single "Spreading The Rock n' Roll Disease". No need to quarantine though- the only thing you will catch from these people is a series case of music fever! Fronted by singer/guitarist 'Crosson' and two sultry back-up dancing babes, they deliver an act so theatrical you need to see it to believe it.
After two electrifying albums, these guys are back with their quirky brand of rock music. Imagine if 'Meatloaf' and 'The Sex Pistols' had a love child… Wildly fusing heavy metal/punk with rock sounds of the 80's and tongue-in-cheek attitude, Crosson transmits a powerful and catchy, addictive sound that has gathered an extreme cult fan base.
Check out Crosson with their new single on iTunes… But be warned- They're very addictive!