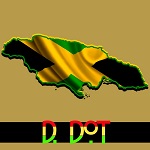 D-DOT Music is bringing fresh beats to Spotify!
We have a hot new release for all of you- D-DOT Music has made an entire album of sick beats perfect to freestyle over, for all you young ambitious rappers out there who are just starting up! Just be sure to tell em who made the awesome beat!



Can you already feel your head nodding to some of these?! They've also been featured on a few of our Afrobeatz compilations! They're perfect for spitting some fire over, or just bumping from your stereo as you cruise around the neighbourhood. The best music is perfect for many occasions, yeah?

D-DOT Music is looking to be a new up and comer in the hip hop community, and their potential rise to popularity with works of this quality heralds a potential rise in popularity for many young rappers who choose to feature their music to rap over! Let's see some real creative collabs. Go stream or buy the album now, and let's ride this train together! D-DOT Music's incredible beats signal a new age of hip hop!

Need more? Right here. We got some embed codes for specific recommendations out of his tracks on Youtube and Beatport. This Blue Pie artist is distributed with pride for a reason- dip your toes in and find out why! The water's fine.