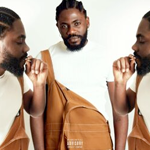 Dancehall beats with power and rhythm! ViQQ unleashes PON TIN!
ViQQ has unleashed a fiery Dancehall Extravaganza with "Pon Tin": this new ten track album is a fusion of Afro-RnB Grooves that's unstoppable! In a resounding triumph of beats, rhythms, and electrifying melodies, ViQQ, the maestro of musical fusion, has set the stage ablaze. Known for his groundbreaking work and collaborations with the crème de la crème of the music industry, ViQQ, also recognized by his birth name Victor Gborge, has once again proven his prowess with an audacious compilation of dancehall anthems that's set to redefine the genre.
With a career that's been nothing short of meteoric, ViQQ's journey from obscurity to international recognition has been an inspiration to both fans and fellow musicians alike. Drawing inspiration from his African roots and effortlessly blending them with contemporary R&B flavors, ViQQ has carved out a distinct musical niche that's both captivating and unforgettable.
"Pon Tin" isn't just an album; it's a sonic odyssey that embarks on a voyage through ten tracks that span genres and traverse emotions. From heart-pounding bass drops to soulful vocal acrobatics, each track on this album is a testament to ViQQ's unparalleled creativity and dedication to his craft.
The dancehall vibes in "Pon Tin" are nothing short of infectious. ViQQ's signature sound, which has been compared to a rich tapestry woven from diverse influences, is showcased in its full splendor in this album. From the moment the needle drops on the first track, listeners are catapulted into a world where the dance floor becomes a sacred space for self-expression and euphoria.
But "Pon Tin" isn't just about head-bobbing and grooving. ViQQ has ingeniously infused his Afro-RnB fusion into each track, resulting in a collection that resonates with emotions and stories that are universally relatable. Whether it's an introspective ballad that makes you contemplate life's twists and turns or the frequent high-energy bangers that urges you to let loose and dance your heart out, "Pon Tin" offers a spectrum of experiences.
ViQQ's ability to seamlessly bridge cultures and genres has led to collaborations with some of the biggest names in the industry. His innate knack for understanding the pulse of his audience and fusing it with his own creative genius is what makes "Pon Tin" a standout release of the year.
As the world grapples with challenges and seeks solace in the universal language of music, ViQQ's "Pon Tin" arrives as a timely reminder that art has the power to uplift and unite. So, whether you're a die-hard fan of Afro-RnB, a dancehall enthusiast, or simply someone who craves soul-stirring melodies, "Pon Tin" promises to be an album that takes you on a journey you won't want to end.
Get ready to experience the sheer brilliance of ViQQ's "Pon Tin" as it hits the airwaves, digital platforms, and hearts across the globe. It's not just an album release; it's a musical phenomenon that will shock the industry to the core in the best way possible.
But if you're new and need to be brought up to speed, ViQQ is an Afro-RnB fusion artist. He is Nigerian, and originally from Delta State, but was born in Lagos State, in 1994. He makes dance-hall music.
ViQQ started out writing lyrics to rap songs when he was in secondary school, (2005) and started recording music since after he graduated from secondary school (2010).
ViQQ dropped a mixtape of 11 songs titled "REALM" in 2018 on SoundCloud and 
Deoolest.co
which featured Logik, Pelle Shine, Chorus, Chuza, Larry Foreman, DJ Nash, Kvtchi. From there, it was history.
As you can see, ViQQ is a shining star that just keeps getting brighter, and we can't help but watch him go! Keep an eye out for his next foray into the musical world, as everything comes together in a viqqtorious explosion of sound!
==========================
SOCIAL MEDIA LINKS:
==========================