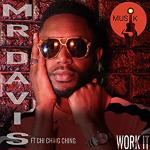 Dancehall Sensation Mr Davis & Chi Ching Ching 'Work It' in Viral Collaboration!
Mr Davis, a Jamaica-born reggae artist, and Chi Ching Ching, a music artist and dancer, have come together to create a collaboration that has taken the music world by storm. The song, "Work It", was released in 2022 and has quickly become a hit in the dancehall and reggae communities. With its upbeat and celebratory tone, the track has been embraced by people all over the world and has become a popular choice for parties, workouts, and relaxing. The track has now been picked up by JIsland Records and integrated into their distribution catalogue and Blue Pie Records' catalogue, so we're very excited to bring more attention to this standout hit!
The "Work It" track was created as a "new birthday song" for the world: that is to say, a song that can be used to celebrate any occasion, whether it be at a kids party or in the club, so long as you're celebrating yourself, as you would on your birthday. The song has a universal appeal, designed to get you up and feeling good, making it a great choice for exercise or relaxation.
The creation of "Work It" was a collaborative effort by a team of talented musicians and producers. Produced by Saunjay Ace Kerr and supported by SCMG's Arnold Taylor, Patrick Davis, Chris Martin and of course, the ever-faithful Chi Ching Ching, "Work It" comes from a place of passion and dedication. The song's popularity can largely be attributed to its viral success on social media. After the release of the single, it was featured on Instagram by Pretty Vee, who is credited by Mr Davis for helping the track gain popularity. The soundtrack choice from her video quickly spread across TikTok and other social media platforms, and soon, people all over the world were dancing and singing along to the upbeat tune. The reason why is clear: the track is a result of a shared passion for creating music that celebrates life and encourages people to move their bodies, and you can definitely hear that in the track, as well as the artists involved… Chi Ching Ching, who is known for his energetic performances and musical talent, was a natural choice for this collaboration and played an integral role in bringing the song to life, both in terms of his talent and in terms of his faith in the song turning out as great as it did throughout the production process.
"Work It" is more than just a song – it's a celebration of life and a reminder to embrace every moment. Whether you're dancing at a party, working out at the gym, or just relaxing at home, this song is the perfect anthem to get you in the right mood. With its upbeat rhythm, catchy chorus, and positive message, "Work It" is sure to be a hit for many years to come.
So, if you're looking for a song to get you up and moving, look no further than "Work It". With its upbeat energy and celebratory spirit, this song is sure to make you feel good and get you in the mood to dance. So, put it on and let Mr Davis, Chi Ching Ching, and the rest of the team take you on a musical journey filled with joy, excitement, and positive energy!
ALBUM LINKS:
RADIO LINKS:
MR. DAVIS OFFICIAL LINKS:
CHI CHING CHING OFFICIAL LINKS: