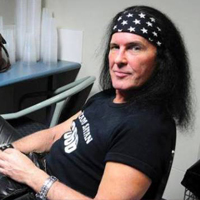 Dave Evans is LIVE and is taking on Spotify hardcore for 2021! Live on Fox Sports!
Just what we needed to get us through the midweek! Dave Evans is badass as ever and he's been dominating Spotify with new releases. These require shoutouts, because how can you keep music this good a secret?! Here's a smorgasbord of new live hits from the man himself for late 2020 and early 2021!
But the release that stands out to us most is definitely Live on Fox Sports! That's the focus today! Check it out.

This killer EP features the iconic triple threat of some hits that any AC/DC fan should know! TNT, Sold My Soul To Rock N Roll, and Whole Lotta Rosie! Chrystal Records have hit a winner with this one, and we're very glad to see our Dave blossoming with his awesome rock hits wherever he goes. So be sure to blast these live hits from your speakers! And just LOOK at the amazing video that accompanies this release! Can you feel the adrenaline?!
Dave Evans is most known to us and many of his fans for his work on the killer album "Sinner". He's been versatile and has stood out as an artist both under AC/DC and as a solo performer! You can't keep this wild boy down, his chaotic rocker energy is too infectious. As the lyrics of Sinner state: "I'm heading off the rails and I kinda like it – when you're caught between the devil and the deep blue sea, take him by the hand and go swimming!" Perfect summary of this badass!
Keep it rocking Dave. The good old days never leave so long as we keep them around, and we at Blue Pie are all about keeping the legacy alive, and helping future adventures grow! Whether it be Blue Pie or Chrystal, your star will shine bright as an inferno.
We hope that if you didn't know Dave Evans and his rockin' legacy before, this will help you get in touch with your long wild hair and 80s attitude once again! Look for Dave Evans at all great music stores across the world. For more information on Dave Evans you can visit his official links below. Dave Evans is a Blue Pie Records USA artist and is published for selected titles by Blue Pie Publishing USA (ASCAP)




Dave Evans: