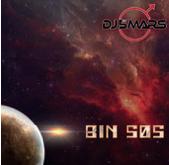 Deepspace techno from DJ 5TH Mars with 'Bin 505'
'Bin 505' is the much awaited second album from deepspace techno DJ and producer DJ 5th Mars. The infectious album was a great success for an underground artist with over 12,000 album sales. With the help of social media for promotion of the album, DJ 5TH Mars was able to attract millions of views resulting in worldwide recognition and praise.
If you love techno, electro or trance style feels, 'Bin505' is a must for your playlist as DJ 5th Mars hits his self-titled genre 'deepspace techno' on the head. An experienced musician for the past 30 years and mixing for 20 years, DJ 5th Mars produces exciting original tracks with his all hands-on approach. Released late November 2013, this album is a triumph for DJ 5th Mars and the techno world.
Purchase-Link