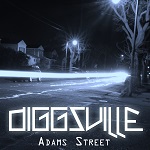 Diggsville wind their way down to Adams Street !
Diggsville return with a vengence of smooth cool silky groovin jazzzzzzzzzzz. We are totally bias as we simple love Karen Mitchell and Diggsville.
When you look up the word Cool in the dictionary you will find a picture of Karen standing their with her band of merry jazzmen doing what they do best and being the coolest katzzzz in the business playing the grooves that everyone wants to listen to. We love you Diggsville. There is no need for fan fare or a rave about the record that they have released, We just need to let the world know that Karen is back with her merry band of Jazzmen and this is their latest tune for your listening pleasure. DIG IT !!!
ABOUT DIGGSVILLE:
Business was down and so was he. After a fruitless encounter with the First Lady of Nova Scotia (married to the boss a' Nova)at a state dinner in Manhattan, the aging gigilo known only as Jaques-Pierre Francois Boudin, was slowly making his way down the coast, south to Key Largo. His real name was Randy Lee and as he stood by the side of the road with his thumb out, he held a secret dream close to his chest. He dreamt of being a drummer in a band, in San Francisco where in his imagination he could smell the espresso and sourdough as it mixed in the air with the sound of jazz(he'd read a lot of Jack Kerouac in his youth).
Then it happened. A silver roadster pulled off the road, driven by a mysteriously striking woman. After she finished striking him, she asked,
"Where're ya headed, Daaaddddy?" …the answer was "to Diggsville mannnnnn"
Purchase-Link