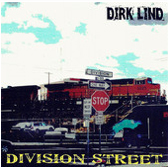 Dirk Lind makes waves with his incredible new album
"Division Street" is the newest release by the incredibly talented Folk Rock, Reggae artist Dirk Lind, and if anything it is nothing sort of a testimony to Lind's sheer commitment as an ever-developing artist.
Throughout the recording process of "Division Street", not only did Lind teach himself the banjo, mandolin and the ukulele in order to develop the albums unique Old Time instrumentation vibe, but he also spent months studying the production process of studio recordings. He did this in order to prepare himself for process in which he self recorded and mixed the album, in his home studio throughout January and February of 2011.
The album, which also features Lind's son Seth on piano and his wife Tracy on backing vocals, is an eight track piece that includes titles such as "The Winter Line", "Delilah" and "Lovers Left Behind", and was influenced by artists from around the world, including sounds such as Black Flag, the Dead Kennedys, Bob Marley and African artists such as Thomas Mapfumo, Youssou N'Dour, Baaba Maal and Sam Fan Thomas just to name a few.
If you're looking to check out an incredible release by and even more incredible artist, make sure to check out "Division Street" today on iTunes.
Purchase-Link