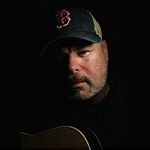 Discover the Melodic Magic: Mark Mulvany's 'Time to Play B-sides' Album
Introducing the latest masterpiece from our exceptionally talented artist, Mark Mulvany, a remarkable new alternative album entitled "Time to Play B-sides." Within this album, you'll discover sixteen captivating songs that delve into themes of life and hope.
Mark's musical journey boasts a rich and diverse catalog, a testament to his artistry and dedication. In addition to his alternative album, we're proud to offer a curated list of exceptional country songs that will surely resonate with country music enthusiasts "Half Truths".
Notably, Mark is the creative force behind his music, both in writing and production. His studio, nestled in the heart of Petal, Mississippi, serves as the birthplace of these musical gems.
Don't miss the opportunity to explore the captivating sounds of Mark's "Time to Play B-sides" – it's a musical experience you won't want to miss.
For more information on Mark please visit the following links.
Official Links