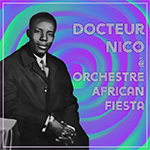 Docteur Nico's Timeless Hits Come Alive in New Compilation Album: "Orchestre African Fiesta | Vol. 1"
In a celebration of the trailblazing musical legacy of Docteur Nico, one of the Democratic Republic of the Congo's most influential musicians, the eagerly awaited compilation album 'Docteur Nico | Orchestre African Fiesta | Vol. 1' has arrived, taking listeners on a captivating journey through his all-star hits. With a career spanning an astounding 32 years, Docteur Nico's contributions to the Soukous movement and his legendary guitar skills have solidified his status as a true icon. Now, thanks to a meticulous restoration and remastering process, his timeless music is set to captivate a whole new generation of music lovers.
Featuring an impressive track list that showcases Docteur Nico's versatility and musical genius, 'Vol. 1' offers an irresistible collection of melodies that blend seamlessly with the vibrant sounds of the African Fiesta Orchestra. From the infectious rhythms of "Merengue Nico" to the soul-stirring melody of "Namona Makambo," each track is a testament to the brilliance of Docteur Nico's artistry.
This compilation album also includes tracks from the acclaimed album 'Docteur Nico And His Orchestra,' a collaboration between Docteur Nico and The African Jazz Orchestra. By bringing together these all-star hits in one place, 'Vol. 1' offers a remarkable listening experience that showcases the depth and breadth of Docteur Nico's musical prowess.
As we delve into this captivating musical journey, it's evident that Docteur Nico's influence extends far beyond his homeland. His talent resonated so deeply that even the legendary Jimi Hendrix sought out the opportunity to meet him during one of his Paris tours. The impact of his 32-year-long career has earned him an indelible place among the legends of Congolese music, particularly those associated with France, hence the honorary title "Docteur." Now, with 'Vol. 1' making its mark in the digital age, Docteur Nico's music has the chance to find a second life, captivating a whole new generation of listeners with its addictive and timeless sound.
With its meticulously curated selection of tracks, 'Docteur Nico | Orchestre African Fiesta | Vol. 1' is a must-have for music enthusiasts and anyone seeking to immerse themselves in the rich and vibrant world of Congolese music. As we embark on this extraordinary musical journey, one thing is certain: the legacy of Docteur Nico continues to shine brightly, and 'Vol. 1' marks the beginning of an exciting series that promises even more awe-inspiring entries in the future. So, get ready to lose yourself in the captivating melodies and irresistible rhythms as Docteur Nico takes us on an unforgettable musical odyssey.
The Docteur is in, and we're loving this throwback to some of his best work. It has been lovingly restored and remastered, and in the digital age, this is the opportunity for figures such as Docteur Nico to find a second life among a whole new generation of listeners. With how addictive this sound has proven to be, we're here for it 100% of the way!
For more info on Docteur Nico, check out his Spotify and Wikipedia pages!