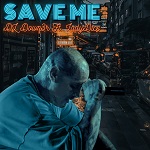 Down3r and LadyDice save Spotify! SAVE ME releases worldwide!
It's finally time – the acclaimed single Save Me is now live on Spotify, as well as all other music streaming services and online retailers! It's a rolling stone on Spotify in particular, with plays from just a few days rivaling the playcount from months of exposure, so that's definitely the network to keep your eye on… as it often seems these days!
The latest track from the iconic duo of DL Down3r and LadyDice is already off to a good start, with over a thousand plays on Spotify just a few days after it was loaded to the service! Known for their monolithic song "Suga Boom Boom", the pair return with something quite different. "Save Me" is an introspective and sombre look at the darker side of life, and the hope that can maybe be found deep within. Last time we commented on it, it had just released on most other networks barring Spotify. It had also featured on episode one of 2021's local radio show/online podcast Blue Pie Radio, making a notable radio debut under MCs Mighty and Pyrite! Now it's finally here on ALL networks INCLUDING Spotify, and is ready for the world on demand, so play it loud and listen proud wherever you're at! Let's see that slick Spotify plug one more time, plus the other dope uploads that have already been up!
DJ Central · DL Down3r Ft LadyDice – Save Me (MT Radio Edit)
With a killer and emotional instrumental backed by a solid trap beat, these lyrics are a plea to save the singer from themselves. LadyDice's sweet vocals complement Down3r's smooth and sultry vocals as always, and the lyrics aren't afraid to cut to the bone. Featuring callbacks to the "chasing dragons" motif of the original Suga Boom Boom, Down3r and LadyDice let you into their lives and show your their pain, show you that they are human. Of course, as far as the duo's music goes, this is a very familiar motif…
The emotions in "Save Me" in particular are plain to hear, and it's yet another example of the amazing synergy that LadyDice and DL Down3r have with each other. Down3r's monologue to the heavens at the end hits you right where it hurts. If you've been there, you know. This isn't the usual G-Funk that Down3r is known for, but his flow is still tight and his style fits perfectly when taken outside of its comfort zone. His is a talent that blends naturally into LadyDice's style, bringing a bit of a gritty edge to her heartfelt pop aesthetic! But that isn't to say she's all sunshine and rainbows, this girl is hardcore too, and her tracks "Beast" and "Freakshow" are sure to remind you of that! This duo can dance to any tune, and "Save Me" is the latest chapter in a shared legacy of excellent bangers that are sure to light up any room in any corner of the world… you just gotta pick the right flavour for the crowd, and this versatile pair have plenty on offer! You oughta know that already though, if you've been running with this duo for long enough… where are the true OGs at?
Through fierce and funky west coast rap, Down3r shares his prolific work with the rest of the world, and the stage with west coast rap legends such as Coolio, Brown Boy, Jay Tablet, Lil Young, Snoopyblue, LadyDice, Baby Bash, Steel City Hustlers, King Z and DJ Kane to name a few. From powerful messages, lyrical poetry and sharp comments on society, to G-funk and Trap/EDM hype songs, he proves that age and experience is the opposite of a liability in today's rap game. And LadyDice is not one to be understated either, and is definitely someone to keep your eye on. Raised on classic rock and growing up as a fan of punk rock and metal, she has found her love for hip-hop as an adult. From this musical background she has developed her unique edge and sound, making her stand out from the crowd. She has touched the hearts of so many with her empowering songs, and her social media fan base is a testament to the growing legion of fans. This little number is just another flex from the duo's talented repertoire, and their fusions of style and passion really make their music pop! Blast it loud, get ready to feel something, and rest assured knowing that neither hip hop nor pop died… they work together about as well as peanut butter and jelly! We're super glad that this new single is out on Spotify – straight into our playlists you go!
DL DOWN3R | OFFICIAL LINKS:
LADYDICE | OFFICIAL LINKS: