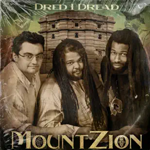 Dred I Dread take you on a Reggae journey to Mount Zion!
Attention all Reggae fans! Get ready to experience the ultimate musical journey to Mount Zion with Dred I Dread's newest hit, now available from the prestigious JIsland Records, in partnership with Blue Pie. This talented Minnesota band are set to take you on a musical adventure unlike any other with their powerful vocals and soulful lyrics. Moving into the Reggae genre properly after three prior releases, the band wished to escape a reputation they built up as just another band from the American Midwest. They're keen to truly embrace their Jamaican roots, and that passion is definitely reflected in their newest offering.
Mount Zion is the latest masterpiece from Dred I Dread, and every single track will make you Jump Up as soon as you hit play: it's guaranteed to be a crowd-pleaser. With its uplifting beat and contagious rhythm, this reggae hit will have you grooving from the first note to the last. The song is a celebration of love, peace, and unity, delivering a message of hope and inspiration that is sure to resonate with audiences everywhere.
Whether you're a long-time fan of Dred I Dread or new to their music, this new true reggae direction for the band is not to be missed. Get ready to take a journey to Mount Zion and experience the ultimate reggae experience!
OFFICIAL LINKS: