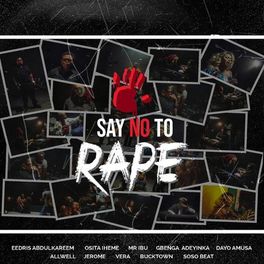 Eedris Abdulkareem is here with a powerful message - SAY NO TO RAPE
Eedris blew us away in the recent past with his song that cut to the bone with its message – SAY NO.

Now he's back, with another take on his "Say No" series of songs… "Say No To Rape".
The brand new single features Osita Iheme, Mr Ibu, Gbenga Adeyinka, Dayo Amusa, Allwell and Bucktown, and is produced by Soso Beat. It's a new entry in the "Say No" series of songs, which is fast expanding day by day… but we'll come back to cover that in our news later. For now, this particular track demands our attention – something with this heartfelt and serious a message can't be overlooked.
This release is now available on Spotify and all major online streaming services and retailers, and of course the music video brings home the fire beats, all while honouring how serious the theme of the song is.
Not to mention the quality production info on display in the behind the scenes vid! Ever wanted to know how songs of this calibre are produced? Here's your chance, right here on Youtube for totally free!
Eedris Abdulkareem is an inspiring rapper with an amazing history behind him, and many classics of his such as "Jaga Jaga" and now "Say No To Rape" illustrate his great musical ability. He is not afraid to speak out for what he believes in and is truly a commendable artist. Watch this space, because there's more where this came from, heartfelt messages and all!
Eedris Abdulkareem is a Blue Pie Records USA artist and available at all leading digital retailers on the planet. Search "Eedris Abdulkareem", or check out his social media links below!