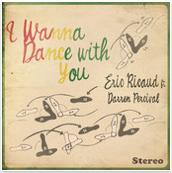 Eric Ricaud and Darren Percival from the Voice ...wanna dance with you !
Eric Ricaud gets his reggae mojo happening with Darren Pervical on vocals. Darren was the runner up for Australia's " The Voice " and we are pretty excited about this cooking little number that Eric wrote. Eric has been building momentum with all his great songs and was a recent semi-finalist in the International Song Competition. For more information you can check out Eric on the net just google " eric ricaud". Eric is pretty busy these days as one of Blue Pie's in demand lyricists and song writers.
Stay tuned for more hot tunes from Eric and the Blue Pie Productions in house music and production team.
Purchase-Link