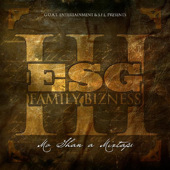 ESG Returns with Family Bizness 3!
ESG returns in 2011 with Family Bizness 3!

Remaining true to his 'Dirty South' roots and choppy style of mixing, Family Bizness 3 is a real mix of the hard and gritty stylings synonymous with ESG, whilst also providing some lighter tracks that bring in soul, R'n'B, and pop. There's no doubt of some hardship in his lyrics but ESG packages these experiences in a diverse mix of styles that help paint a picture of his musical influences, plus his own contribution to the evolution of the hip hop/rap genre.
Purchase the album today via Amazon, or click on the link below to purchase it through iTunes!