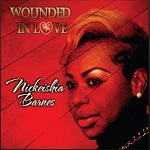 Ever been Wounded In Love? Nickeishia Barnes has...
For all the emotional souls in the audience, Nickeishia Barnes has the album for you.

The passionate, soul-driven vocals burst through the chill, grooving beats, heralding a new eruption of great music from the lovely and talented Jisland Records. And leading the charge is Nikeishia! Jisland and Blue Pie are both incredibly lucky to have her talent on board. The raw emotions contained within this 8 song collection will be the best half hour of your life if you allow yourself to invest your emotions into Barnes' excellent songs. And if you can't get enough of it even after this, we have you covered! Check out this comprehensive Nickeishia Barnes playlist on Spotify!
STILL can't get enough? Well check this out. Here's the official Twitter for Nickeishia Barnes!
http://www.twitter.com/nickeishiab
Terrific stuff. Truly any fan of emotional music can find their place in the music of Nickeishia Barnes!