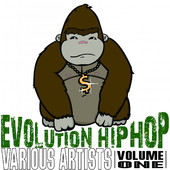 Evolution Hip Hop Vol.1 - Blue Pie Brings you Hip Hop For You To Enjoy!
Blue Pie Records in America has brought their hip-hop crazed fans their first various artists' compilation, "Evolution Hip Hop Vol.1". The full-length 12-track album samples the fastest growing; revolutionary acts in groundbreaking rap of our time. The compilation features acts such as; Mr. Tac a.k.a 'Chocolate', Korrossive, AZitiZ, Bre and more!
Blue Pie Records have been receiving an overwhelming amount of praise for the quantity of great quality artists on their Label.
These acts are all fresh and explicit and exclusively, available for distribution through Blue Pie Records and posted directly on our iTunes pages!
Purchase-Link